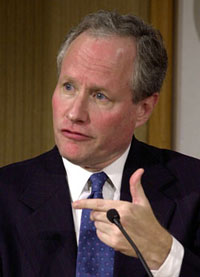 Two conservative Time magazine columnists are on their way out the door: Neither William Kristol nor longtime contributor Charles Krauthammer will be on contract with the magazine starting next month. Mr. Krauthammer confirmed the news to Off the Record, and a spokeswoman for Time said Mr. Kristol's contract would not be renewed.
And according to two sources familiar with the discussions, Time is in negotiations with National Review editor Ramesh Ponnuru to sign him to a contributor contract. Mr. Ponnuru, who in 2006 published The Party of Death: The Democrats, the Media, the Courts, and the Disregard for Human Life, has written twice for the magazine over the past month.
The exact reasons for the departures of Mr. Krauthammer and Mr. Kristol, both high-profile backers of the Iraq war, are not entirely clear.
"I was very happy to work with them," said Mr. Krauthammer on the phone from his Washington office. "And I have a lot of things that occupy me."
Asked if he would have preferred to stay with the magazine, Mr. Krauthammer, a Pulitzer Prize winner who writes a regular column for The Washington Post, suggested there wasn't much of a choice. "It's a hypothetical that didn't arise," he said.
The Time spokeswoman would not detail the reasons for ending the contract of Mr. Kristol, the editor of The Weekly Standard, but said that the decision was mutual. Mr. Kristol did not return a call for comment.
Back in March, Time managing editor Richard Stengel, who took over in May 2006, redesigned the magazine, putting columnists front-and-center. The top-heavy banner with the name "Krauthammer" was a visual signature in the new look; Mr. Kristol was hired last December, along with the liberal columnist Michael Kinsley, as part of an effort by Mr. Kristol to hire what he described as "star writers."
"They've been looking for columnists basically since Rick came here," said one Time staffer. "He's in love with columnists—the idea of columnists."
Mr. Stengel, though, has rejected at least one high-profile potential columnist hire. Radar reported last month that he declined to sign Karl Rove, when approached about the idea by Mr. Rove's agent, Robert Barnett. Mr. Rove is now a columnist for Newsweek.
As for the two recent departures, Mr. Krauthammer has had a diminished presence in Time lately. He's written for the magazine only once since March, compared to the eight times he wrote last year and the nine times he wrote in 2005.
Mr. Kristol, for his part, had been on the job only 11 months, during which time he penned fewer than 20 columns, including only four since July (one recent piece outlined why the Republicans can win the White House; another, about the nature of patriotism, was titled "Learning from Lincoln's Wisdom").
The Time spokewoman said that Mr. Stengel was not available for comment, because the magazine is closing its annual "Person of the Year" issue. She added, of the two departing columnists: "We hope and expect each of them will continue to contribute to Time frequently."