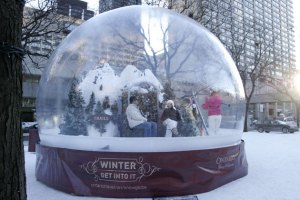 Tomorrow is the last chance to view what could possibly be the creepiest advertising campaign to hit Manhattan in recent memory, the world's largest snowglobe in Bryant Park.
Live actors dressed in ice-hockey, ski, and snow-boarding gear have been holed up in the two-story tall vinyl dome that's 20 feet in diameter since Friday to promote tourism in Ontario. The actors are supposed to "create wintry scenes from inside while a variety of wintry activities like ice sculpting demonstrations and ice wine tastings will be offered to those outside," according to the Web site of the New York City Department of Parks and Recreation.
On Sunday night, two ski bunnies huddled inside the giant, transparent orb beneath polyester snow flurries, sipping coffee from familiar burgandy snow-flaked cardboard cups, causing The Observer to initially mistake the bizarre scene for a Starbucks holiday campaign.