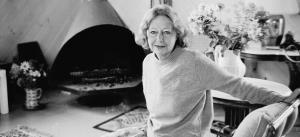 Elizabeth Hardwick, the author and critic who fulfilled her dream of becoming a "New York intellectual," died in her sleep Sunday night at Roosevelt Hospital, according to Catherine Tice, associate publisher of the New York Review of Books, which Hardwick helped found in 1963. She had been hospitalized with a minor infection. She was 91 years old.
Hardwick was among the last survivors of a promiscuous, hard-drinking circle of intellectuals that included Edmund Wilson, Lionel and Diana Trilling, Mary McCarthy, Philip Rahv and the celebrated poet Robert Lowell, with whom she had a famously difficult marriage.
…
Although she started out as a fiction writer, Hardwick received her greatest acclaim as a critic. Joyce Carol Oates likened her essays — long, playful, meditative, deeply informed — to those of Virginia Woolf. "Seduction and Betrayal," an analysis of such literary heroines as Hester Prynne of "The Scarlet Letter," became required reading for studies of women in fiction.
"She was a brilliant essayist, absolutely," Oates told The Associated Press on Tuesday. "She was a kind of genius in that difficult form, in which the personal and the critical, or cultural, were melded together in brilliant prose."