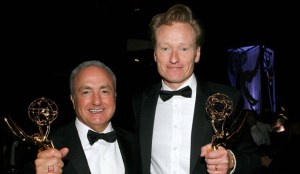 As the Media Mob told us this morning, there were reports of late-night shows possibly returning by Jan. 2. Those rumors have been confirmed by NBC this morning, according to The New York Times.
NBC officially announced today that its two late-night stars, Jay Leno and Conan O'Brien, will return to the air on Jan. 2 even if the strike against networks and studios by entertainment writers is not resolved by then.
The two hosts would be forced to perform without writers, and might have to face opposition from the Writers Guild, which has thus far urged the late-night hosts to support the strike by staying off the air. However, the tone of that opposition has softened in recent weeks after the hosts began paying the salaries of the nonwriting staff members of their shows.
CBS's late night star, David Letterman, is pursuing an interim agreement with writers that would allow him to return on Jan. 2 with his writers. Mr. Letterman is positioned to make such a deal because his production company, WorldWide Pants, owns both his show and the one that follows on CBS, which has as its host Craig Ferguson.
This weekend Mr. Letterman's representatives said they had been negotiating with the guild for that interim agreement and were hopeful they would be successful, but the deal was not yet settled and at least one representative of a late-night show said the some members of the guild leadership might have concerns about making a separate arrangement with Mr. Letterman.
Other late-night hosts, including Jon Stewart and Stephen Colbert on the Comedy Central channel and Jimmy Kimmel on ABC have not yet announced their plans. However, it is expected they all will return some time in early January, even without writers.