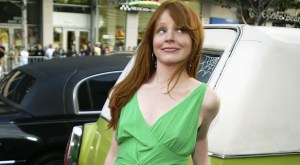 Lauren Ambrose was recognized by the Actors' Equity Foundation for her superb performance in the Public Theater's Shakespeare in the Park production of Romeo and Juliet this summer. She, along with Is He Dead?'s Byron Jennings, have been selected to receive the 2007 Joe A. Callaway Award. The award — which includes an engraved plaque and a $1,000 check — honors "the best performances in a professional production of a classic play (one written prior to 1920) in the New York metropolitan area," according to press notes. The award was established by Mr. Callaway to "encourage participation in the classics and non-profit theatre."
The awards will be presented to the two actors during Equity's Eastern Regional Membership Meeting on Jan. 11, 2008, at the Manhattan Equity offices.
…
This year's panel of judges included Adam Feldman, Time Out NY; Harry Haun, Playbill Magazine; Michael Kuchwara, Associated Press; and David Rosenberg, Back Stage.
Lauren Ambrose made her Broadway debut in the Lincoln Center Theater revival of Awake and Sing! In London she co-starred in the National Theatre's production of Sam Shepard's Buried Child, directed by Matthew Warchus. The actress is perhaps best known for her work as angst-ridden teenager Claire in the acclaimed HBO series "Six Feet Under.'
Byron Jennings' Broadway credits include Inherit the Wind, Heartbreak House, A Touch of the Poet, Twelve Angry Men, Sight Unseen, Dinner at Eight, Noises Off, The Invention of Love and The Man Who Came to Dinner.