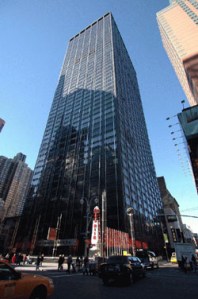 As the level of leasing activity among financial firms slows to a trickle, law firm Dickstein Shapiro has signed a lease to take about 102,000 square feet in Paramount Group's 1633 Broadway.
The Washington, D.C.-based Dickstein Shapiro is moving to the 48-story tower from another Paramount building, 1177 Avenue of the Americas, which Paramount CEO Albert Behler recently agreed to sell to downtown kingpin Larry Silverstein for at least $1 billion.
According to CB Richard Ellis vice chairman Lewis Miller, the move puts Dickstein Shapiro in a building with contiguous space on two floors—he said the firm was spread across eight floors at its current building—and in a spot where it has room for expansion, something the firm plans for in coming years.
"They're really growing their practice in New York," Mr. Miller, who represented Dickstein Shapiro on the lease, told The Observer.
Taken with a handful of other sizable moves and expansions by law firms in the past few months—Latham Watkins recently increased their presence in 885 Third Avenue, the Lipstick Building, by about 70,000 square feet, for instance—law firms are seemingly some of the most active in the leasing world these days.
While the financial industry sits tight amid economic woes, lawyers always seem to find a way to be doing well, in rain or shine, and thus many continue to expand even as economic prospects grow dim. One reason, says Mr. Miller, is that law firms are expanding aspects of their practice to become well rounded, hedging their bets in preparation for a possible drop in financial-related work. "You're definitely getting much more diversified practices," he said.
Kevin Powderly of CB Richard Ellis joined Mr. Miller to represent Dickstein Shapiro, and Paramount represented itself in-house.