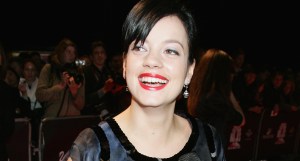 Lily Allen was chosen to serve on the jury of next year's Orange Prize for Fiction, and now the literary world is in a hubbub about encroaching on the high-brow business of judging literature. The Royal Society of Literature's chair, Maggie Gee, has questioned the "shortage of serious writers" on a panel that includes authors Philippa Gregory and Bel Mooney, journalists Kirsty Lang and Guardian Review editor Lisa Allardice.
But Maya Jaggi, a judge at last year's Orange Prize, writes in the Guardian that maybe choosing Ms. Allen isn't such a bad idea. "I know nothing of Lily Allen's literary tastes, though, according to her godmother, the novelist Susie Boyt, she is 'extremely intelligent, loves reading and grew up in a house full of books.' There are worse qualifications for joining a discussion on literature."
Allen, at 22, is the youngest ever judge of a prize for which many contenders are authors also in their 20s. With the following the singer brings, the potential to extend reading beyond those already committed to it – including the often elusive younger age group – is also in some sense a prize.
Unlike reviewing, with its onus on individual responsibility, literary juries are fundamentally about discussion and collective decisions, about championing (and rubbishing) books, but also being open to others' opinions. The balance is therefore key. The ultimate aim is to serve not just writers, but readers.