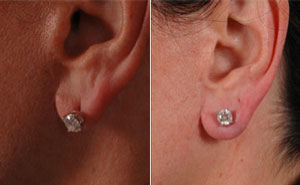 Do your ears hang low? Do they wobble to and fro?
You might remember that silly little ditty from summer camp, but for many women in New York society, thin, droopy ears—stretched by gravity over time, exacerbated by heavy earrings—are no laughing matter. Sagging boobs can be supported by a good bra, but there's no way of strapping flaccid, exposed lobes into underwire.
Perhaps it's time to visit the cosmetic dermatologist?
For the past few years, Dr. Howard Sobel, director of the Skin and Spa Dermatologic Cosmetic Surgery Center on 960 Park Avenue, has been quietly plumping up women's ears with injectable serums such as Restylane and Radiesse—the same ones he uses to rejuvenate their faces. "As people get older, the ear loses volume and shows wrinkle lines," said Dr. Sobel. "It's part of the aging process."
Dr. Sobel noted that if a woman is using fillers in her face to clean up things like naso-labial folds and forehead lines, making her face appear more youthful, then aging ears may stand out even more. Put another way, you want the handles to complement the vase—kind of like making sure your accessories match your outfit.
Though in this case, of course, accessories are precisely the problem. "One patient only wore big, heavy earrings, and part of the reason was that she was trying to cover her stretched-out ears!" Dr. Sobel said. "She didn't realize that the big earrings were only making the earlobe stretch more. When the hole gets too big it starts to pull the ear down. So we repaired the pierced hole in her ear and injected it, which added volume back, and it looked like her old ear." This is a common procedure, he added.
"The value of earrings may be lost with a thinner ear," said Dr. Roy Geronemus, director of Laser and Skin Surgery Center of New York and a clinical professor of dermatology at N.Y.U. Medical Center, who said he is increasingly performing more injections into earlobes. "It's a minor tip-off to age, and plumping makes the ear look more youthful."
Daniella Vitolo, the store manager at the Judith Ripka jewelry store at 673 Madison Avenue, said that her customers' biggest complaint is that their ear hole is getting pulled. "My clients absolutely discuss the issue of ears looking pulled down—as early as their 40's," she said. Ms. Vitolo said that though many of her clients have had their ears re-pierced and it helps a lot, none thus far have 'fessed up to doing injections.
A Hush-Hush Procedure
Indeed, so reluctant are ladies to talk about the ear-plumping experience, you'd think they we were discussing vaginal rejuvenation surgery here,
Elaine (who asked that her last name not be used), a 55-year-old advertising and sales executive who lives on the Upper East Side, noticed about a year and a half ago that her "good" earrings were hanging down and not staying close to her ears. "I looked crappy," she said—and since she has a short coif, her droopy lobes were out there for all to see.
She had been having Botox injections for forehead lines at the Skin and Spa center. "I mentioned my ears to Dr. Sobel and I thought he would laugh about it,'" she said. On the contrary. The good doctor suggested a Restylane treatment, after which "my earrings looked fabulous!" said his pleased patient. "I had dinner with a girlfriend that same evening and she said to me, 'Those earrings are gorgeous!' She had never noticed them before."
Subsequently, Elaine's mother, who is in her 70's, wanted to give Elaine some valuable earrings that no longer looked good on her own ears; Elaine mentioned she had had her earlobes injected. So her mother, who had never before had cosmetic work, went in and did the same thing.
The procedure is very quick and essentially painless. Dr. John Romano, a partner at West Village Dermatology, said that numbing gel can be used, even though it may not be necessary. He then injects a thin needle of filler (usually Restylane, which is a clear gel composed of hyaluronic acid, a natural substance found in the body) into the back side of the earlobe at about two or three different sites. "I massage the gel in there until it has a smooth feel," he said. "The ear then seems to plump up." It takes about 5 to 10 minutes per ear.
The effects are immediate, so patients get instant gratification—not like waiting weeks for your nose job to morph from puffy blob to perky bob. Generally there is very little if any bruising, and if it does occur, it's temporary.
How much does it cost? Dr. Sobel charges $750 for a syringe of Restylane (for both ears) or silicone, and $950 for Radiesse (a filler composed from bone, which lasts longer). Silicone is permanent, but it has to be done very slowly, over a period of about four months. Most of the other fillers last about six to eight months. (Ear today, gone tomorrow, in other words. Sorry!)