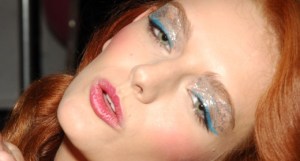 An awful lot has already been made of the catty feud between Designers for Darfur's Malcolm Harris (a.k.a. Malcolm Sirrah, à la Oprah/Harpo) and model-heiress Lydia Hearst. Here's more! Mr. Harris just wrote a lengthy letter to Gawker responding to today's news, which suggests that he put Ms. Hearst's name on his party invitations without her consent. (In short, the letter states that Ms. Hearst, whom he calls a fellow co-founder of the organization, agreed to the terms of his deal. "Lydia and I both have always known the deal – the trade was simple – we do "all" the real work and you use your name to promote the events," he writes in the nearly-500-word epistle.)
We asked Ms. Hearst for a comment, but she had none. Instead, she said, she plans to write about it in her Page Six Magazine column in two weeks.
We did, however, get a comment from a source very close to the 23-year-old lovely.
"She did the first party; it was a lot of work and it wasn't well organized enough," the insider said of the kickoff fête. Held on the last day of last year's Fashion Week, Mr. Harris apparently told Ms. Hearst that it was going to be held in the Bryant Park tents, but it ended up being at midtown nightclub Roseland Ballroom. "He was saying, 'George Clooney this and Angelina Jolie that,' but it ended up being just Lydia having to do all the interviews alone." For a subsequent party, the source said, Mr. Harris told Ms. Hearst it would be held at the Gramercy Hotel with Anderson Cooper. After she sent her regrets, saying she was unable to attend, he allegedly kept her name on the press materials and invitations for the shindig—oh, and it was actually held at Club Runway at 2 a.m. and 100% Anderson-Cooper-free. "These events started out with a great idea but ended up at 27th street clubs, so she didn't think it was doing any good, especially for people in Darfur," the source added. "She just wants to get over it and go on to the future. Lydia didn't mean to cause anyone any upset or harm. [Mr. Harris] thinks if you're against him, you're against Darfur. She just didn't want to be associated with his association. He's not Darfur."