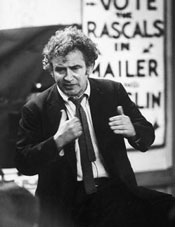 The late Norman Mailer's 29-year-old son John tells The New York Post's Liz Smith today that his movie adaptation of The Naked and the Dead, which was announced in a press release on the day of his father's death, was not meant as a cash-in.
John Mailer said he was "appalled" at the timing of the press release, which he called "an accident of fate."
"I am not blaming anyone for this, but it was premature and inaccurate to say the least," Mr. Mailer said. "It is true I did an adaptation of this novel sometime ago. He [Norman Mailer] liked it very much and signed over rights to me. Someday perhaps it will be a film. But for now I am appalled at the timing of it all. I just want to disavow that and say I would never have connected such a project with my family's loss."