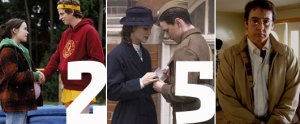 While The Golden Compass (No. 1) will be stealing headlines this morning for its lackluster performance—$26 million nationally ($420,000 of that from Manhattan) to offset its reportedly $180 million budget—this weekend's box office receipts portended the rise of two Academy Award contenders: Jason Reitman's Juno (No. 2) and Joe Wright's adaptation of the Ian McEwan novel, Atonement (No. 5).
The comedy starring Ellen Page and Michael Cera averaged an astronomical $63,000 on three screens, beating out Atonement—currently, according to buzz and conventional wisdom, the Oscar forerunner for best picture—which had an impressive $55,000 average on two screens and The Golden Compass, which managed a rather respectable $42,000 average on 10 screens. So, to recap, in a town where neither Atonement, nor The Golden Compass faltered, Juno shined brightest. A Reitman hasn't been this popular in this city, since the first Ghost Busters in 1984.
Meanwhile, Enchanted (No. 3) dropped two spots, but maintained a healthy $13,000 average in its second week, staving off an especially robust No Country for Old Men (No. 4), with an equivalent average, but showing at one less theater in its fifth week. (Old men, maybe not. But, old movies? Sure!)
Savages (No. 6) expanded into four theaters but, with all the stellar competition, could only manage to move up two spots. Its average, which is hovering around $20,000, means this one should stick around in the top ten for at least a couple more weeks.
Beowulf (No. 9) took the steepest drop, hemorrhaging close to 50 percent of its business and sliding six spots in its fourth week. With another special effects laden fantasy film, Compass, debuting, this should come as no real surprise.
And if Grace Is Gone didn't star John Cusack—in a role where the veteran actor is practically begging to be nominated for an Oscar—and wasn't being distributed by the Weinsteins, it would be this week's Straight-to-the-Netflix-Queue Award winner. Playing on four screens—two in the city—the film suffered a $3,500 average and couldn't break into the Manhattan top ten. Hmmm … maybe it was the glasses?
List of theaters: Paris, Zeigfeld, Oprheum, East 85th St., 86th St. East, 84th St., Lincoln Plaza, 62nd and Broadway, Lincoln Square, Magic Johnson, 72nd St East, Cinemas 1, 2 &3rd Ave, 64th and 2nd , Imaginasian, Manhattan Twin, First and 62nd St., Angelika Film Center, Quad, IFC Center, Film Forum, Village East, Village Seven, Cinema Village, Union Square, Essex, Battery Park 11, Sunshine, 34th Street, Empire, E-Walk, Chelsea, 19th Street East, and Kips Bay.
Manhattan Weekend Box Office: How moviegoers in the multiplexes of middle America choose to spend their ten-spot is probably a big deal in Hollywood. But here in Manhattan, the hottest movies aren't always the ones making the big bucks nationwide. Using Nielsen numbers for Manhattan theaters alone and comparing them to the performance of the national weekend box office can tell you a lot about our Blue State sensibilities. Or nothing at all! Each Monday afternoon, we will bring you the results.