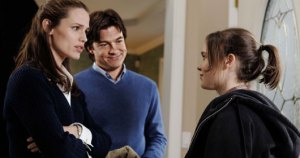 JUNO
Running time 92 minutes
Directed by Jason Reitman
Written by Diablo Cody
Starring Ellen Page, Michael Cera, Jason Bateman, Jennifer Garner
Jason Reitman's Juno, from a screenplay by Diablo Cody, bounces and bubbles ebulliently with a subject that would have once sunk into a stagnant sea of sententious sermonizing, Knocked Up to the contrary notwithstanding. Actually, I can recall only one American movie in which a pregnant teenager gets an abortion, and that was Amy Heckerling's Fast Times at Ridgemont High (1982), with Jennifer Jason Leigh as the unwilling mother. Mr. Reitman and Ms. Cody's handiwork is not the second example, though there is one forlornly nerdy female right-to-life protester with a pathetically windswept picket sign to keep Ellen Page's 16-year-old Juno MacGuff from entering an abortion clinic. As it turns out, Juno has no intention of aborting her baby. She is merely looking to give her newborn child a more-than-even chance in life. All right, that's one potential trauma avoided. Another would be a last-minute change of heart brought on by the emotional reality of a new life entering the universe. No such blather here. This is a buoyant comedy from start to finish, and even when Juno's dream couple for her baby begin to have marital troubles of their own, Juno keeps her word to the would-be adoptive mother, Vanessa Loring (Jennifer Garner), even when her husband, Mark (Jason Bateman), turns out to be a bit of a jerk.
Ms. Cody's lively screenplay doesn't let anyone entirely off the hook, not even Juno herself, who, though plenty smart, is not nearly as smart as she thinks she is; and all the people around her are far from dumb. Take her best friend, Leah (Olivia Thirlby). Far from being a stooge to serve as a listening post for Juno's pearls of wisdom, Leah is given some of the funniest lines in the script, and manages to be powerfully supportive of Juno, without being parasitic or subordinate.
Juno's one-shot lover, the mild-mannered and unostentatious Paulie Bleeker (Michael Cera), is more than content to just hang around until the more forceful Juno decides how to handle her predicament. But when he tells her that he is going to the senior prom with another girl, she becomes tearfully outraged, but later makes up with him.
Juno's dad, Mac MacGuff (J.K. Simmons), and her stepmom, Bren MacGuff (Allison Janney), also defy stereotypes by being neither gaga hysterical nor bitingly aloof. Instead, they maintain a level of intelligent concern that makes them helpful partners in Juno's warmhearted but risky enterprise.
Mr. Reitman's first feature film, Thank You for Smoking, his own adaptation of Christopher Buckley's novel, was on my 2005 ten-best list, as I recall, and if it wasn't, it should have been. In his director's statement, Mr. Reitman connects Juno to his own childhood: "When I was twelve, my parents decided to adopt a child. I grew up in a very loving Loring-like residence with incense sticks, plexiglass-enclosed tchotckes, and framed portraits of my family all posed in white (yup, that was us). One morning, we assembled in the living room where my sister and I were informed that we would be visited by a social worker that would deem whether or not we were an appropriate home for an adopted child. It was an audition of how good a family we were."
But then Mr. Reitman graciously credits the actual genesis of Juno to his screenwriter: "The story of Juno comes from Diablo's childhood when one of her closest friends in high school became pregnant and decided to take the baby to term. Often she is asked what gave her the idea to make this into a movie. The first scene she ever thought of—the kernel of Juno—is that meeting at the Loring house, where Juno meets the potential parents of her child."
In her own writer's statement, the screenwriter begins impishly enough: "My name is Diablo Cody—well, not really. But who cares? Artifice is typically encouraged in Hollywood, even rewarded."
By now, everyone in the Western world, and even a few people beyond it, are aware that Ms. Cody began life as Brook Busey-Hunt, and was working at a menial job in a Minneapolis ad agency when she walked by the Skyway Lounge, a strip joint advertising an amateur night for good Catholic girls like herself. In David Carr's amusing article in The New York Times Arts and Leisure section of Sunday, Dec. 2, 2007, she "had a naughty epiphany. And the rest is well, a stage name, a blog, a book and a screenwriting career."
The point is that Juno represents an almost magical configuration of very talented people with very much the same brand of whipsaw humor. For her part, Ms. Page, a Canadian newcomer, has received notices likening her emerging performance to that of Audrey Hepburn in William Wyler's Roman Holiday (1953), and the parallel drawn is no exaggeration. 'Nuff said.