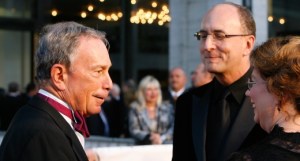 Mayor Bloomberg, from China, sends his best for the proposed M.T.A. fare hike. From a press release that just came out:
Based on the information that my staff and I have received and reviewed over the past few weeks, I am now satisfied that the MTA budget is a responsible plan that includes important cost reductions. I agree with Governor Spitzer that this fare increase is necessary to maintain an adequate level of service and balance the needs and obligations of all who use this critical part of the region's infrastructure. Although it is always hard to ask riders to pay more, I will now urge the City's representatives to support the proposed fare plan that calls for preserving the $2.00 fare and holding the overall fare increase to less than 4%.
The statement said that the M.T.A. had agreed to reduce expenses by $140 million, "approximately the same reduction in controllable expenses I am asking of Mayoral agencies," suggesting that the secret to his support was that the M.T.A. agreed to pare its proposed budget for next year. The Governor, in freezing the $2 fare, had said that the M.T.A. was able to spend more because of newfound revenues, not spend less.