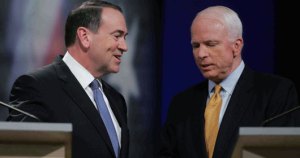 The Republican presidential race may look like a cluttered and chaotic mess, but it's actually become fairly simple: Mitt Romney will win the nomination unless Mike Huckabee and John McCain can stop him.
Mr. Romney, unlike from every other G.O.P. candidate, is positioned to contest every state on the primary calendar. He has unlimited money, an enviable campaign organization and a message and style tailored to draw in Republicans of varying ideological stripes—or at least to get them to throw up their hands and say "good enough." If Mr. Romney is to be stopped, it must happen now. And that's where Mr. Huckabee, the only candidate who can possibly beat Mr. Romney in Iowa, and Mr. McCain, the lone non-Romney hope in New Hampshire, come in.
Both men, severely underfunded and viewed with something between suspicion and scorn by influential components of the G.O.P. interest group establishment, plainly recognize their status as brothers in arms. Their strategy: Team up to make Mr. Romney himself an issue in the closing days of the campaign.
In a Sunday morning interview of ABC's "This Week," Mr. McCain sought to use Mr. Romney's latest batch of New Hampshire attacks ads—which criticize Mr. McCain for advocating an immigration plan that Mr. Romney himself only two years ago described as "reasonable"—to raise questions about his opponent's character and to give Mr. Huckabee some cover in Iowa.
"He's attacking Huckabee in Iowa, who's a good man," Mr. McCain said. "And that shows that they're worried, and that's been his history—of spending lots of money attacking his opponents when they get close."
Mr. Huckabee returned the favor minutes later on NBC's "Meet the Press." Asked about Mr. Romney's aggressive attacks against him in Iowa, Mr. Huckabee said that his opponent has run "a very desperate and very dishonest campaign" and noted that Mr. McCain in New Hampshire is a victim of the same ugly politics.
"Senator McCain is an honorable man, and I believe he's an honest man," Mr. Huckabee said. "I believe he's a man of conviction. And I felt like that, when Mitt Romney went after the integrity of John McCain, he stepped across a line. John McCain's a hero in this country. He's a hero to me."
He added: "If you aren't being honest in obtaining a job, can we trust you to be honest if you get the job?"
The McCain/Huckabee line of attack just may work, mainly because it highlights Mr. Romney's chief vulnerability—the perception that he is a slippery beguiler — while also drawing attention to the character attributes that underlie Mr. McCain's and Mr. Huckabee's personal appeal.
Mr. Romney is in such an advantageous spot right now because he's methodically thrown a career's worth of positions and rhetoric out the window and remade himself into a candidate who just so happens to embrace every attitude that polls well among Republican voters—a jarring transformation that he's pulled off by projecting sincerity whenever he's been questioned about it.
For three of the four years he held the post, he was an absentee governor in Massachusetts, racking up no meaningful accomplishments (other than jetting back home to claim credit for a health insurance plan that was drawn up by the state Legislature and that has thus far failed to come close to its goal of universal coverage) and alienating so many voters that a re-election campaign was out of the question.
Doubts about his trustworthiness remain, thanks to the paper trail he's left and his own tendency to embellish—like his claim of being a lifelong hunter, or of having marched through Detroit with Martin Luther King.
Mr. Romney has poured tens of millions of dollars into savaging Mr. McCain and Mr. Huckabee for their various departures from conservative orthodoxy, whether on immigration, taxes, or torture, and it has worked well enough. Because Mr. Romney knows and is willing to say exactly what Republican audiences like to hear on these subjects, Mr. McCain and Mr. Huckabee can't defeat him by arguing about these issues.
What they can do is draw on their own reputations for integrity — Mr. Huckabee is a Bible-quoting Baptist preacher and Mr. McCain is a former P.O.W. who has paid dearly in politics for his willingness to take unpopular stands—to raise questions about Mr. Romney's.
And so the G.O.P. race has come down to this: Will Iowa and New Hampshire Republicans go for a charmer with a knack for hitting the exact right ideological note whenever he speaks—someone who exhibited the same trait in liberal Massachusetts? Or will they ask themselves whether such a candidate might just a little too good to be true?