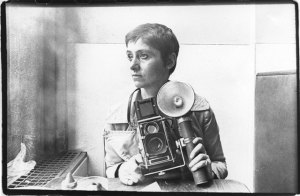 Diane Arbus' estate has given the photographer's intimate, complete archives to the Met as a gift, along with hundreds of early and unique photographs; negatives and contract prints of 7,500 rolls of film; and hundreds of glassine print sleeves that she personally annotated before her death by suicide in 1971, according to the New York Times.
At the same time, the museum has bought 20 of Arbus's most important photographs, including "Russian Midget Friends in a Living Room on 100th Street, N.Y.C." from 1963 and "Woman with a Veil on Fifth Avenue, N.Y.C." from 1968, from the Fraenkel Gallery in San Francisco, which represents her estate. While the Met declined to say what it paid for the photographs, experts say they are worth at least $5 million. The gift of the archive is impossible to value, experts said.
Jeff L. Rosenheim, curator in the Met's department of photographs, predicted that the archive would be an enormous boon to scholars. "Generally this kind of material doesn't survive the artist," he said.