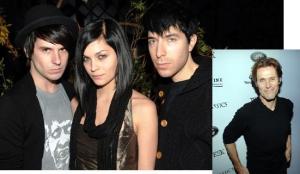 Last night, Milanese fashion label Costume National hosted a party in their Soho boutique commemorating 21 years in the industry. To toast the milestone, the brand known for super-slim-fitting clothes—à la Hedi Slimane—released a weighty book, Costume National: 21 (Assouline). While the Misshapes provided the background tunes for the relatively small gathering, a few guests made themselves cozy by curling up on the store's chaise lounges, where they sipped red wine and martinis. Never mind all the blaring overhead lights—everyone looked fab, darling.
"I'd be a liar if I told you how," said actor Willem Dafoe, responding to The Daily Transom's question about how the brand seemingly attracts an ever-younger and hipper clutch of loyalists each season. "I don't know about the fashion world, how it really works," he admitted, speaking in stilted clauses like Christopher Walken in a mob flick.
Even still, Mr. Dafoe, 52, looked sharp in a natty ensemble that fit like a glove; his dark suit was accented by one of those über-hip slim ties. But when looking for clothes, the Anamorph actor simply seeks "something that feels good," he continued, "I'm not much of a dresser. I don't like to reveal too much through what I wear. But I like fashion more on other people; me, I'm quite conservative in how I dress." He then took a long draw from his wide glass of vino rosso.
Alan Cumming, on the other hand, seems to know exactly what he wants when he goes shopping. He did allow, however, that it can be tough to find the perfect fit. "It's funny; I'm European-y built, which means you're the same shape all the way up and down. Like my chest is the same width as my feet," he said, using his hands, fingertips gymnastically curling outward, to glide up and down the sides of his body. The whole thing was admittedly sensual.
The 42-year-old Scottish actor (who said Steven Spielberg recently told him that he's "on the short list" for Peter Jackson's forthcoming Tintin) is looking forward to spending the holidays cooped up with friends over from Europe. The group will travel to his retreat in the Catskills, where, he told us, "we just like veg out and watch all the films I get from the Academy." Any partying go on up there? "But of course!" Mr. Cumming purred with a mischievous smirk.
Before hitting the road, we stopped by the Misshapes' D.J. booth, hoping to chat with the enchanting Leigh Lezark. But it didn't take long for Geordon Nicol to jump into the mix, all the while keeping the tunes flowing with his finger on the turntable. As it happens, the cool kids and their even-cooler shiny black hair had just come to the party from the airport, where they arrived a day late from Spain. They were on the Iberian Peninsula, Mr. Nicol said, to deejay for a massive party. "We were out all night and missed our flight," he added of the riotous gig, where the New Yorkers were startled by an abundance of crowd surfers.
Asked if they have to alter the overall vibe of their playlist at each outside event, the outspoken Misshape paused for a brief moment. "It was a little more of a house vibe [in Spain]; it was like this huge club. So we obviously played to that crowd. And two weeks ago we deejayed this thing for Elton John and that was more jazzy, loungy, ethereal-like music," Mr. Nicol said, giving his wheel a little jiggle. "It's more about understanding your environment and understanding where you are. Not really catering to that, but knowing what's appropriate for where you are."