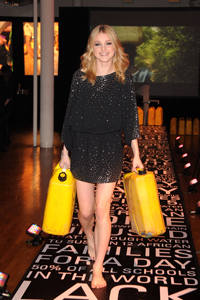 On Monday, Dec. 17, hundreds gathered at the Metropolitan Pavilion on 18th Street to support Charity: Water, an organization founded by former club promoter Scott Harrison that sells 16 ounces of bottled water for 20 bucks, using the profits to provide clean well H20 to Africans in need.
"Even a year ago, I didn't know there were people drinking diseased water," exclaimed model and onetime aspiring dentist Jessica Stam, the event's co-host, resplendent in a vintage, studded Halston frock. "People there drink water from rivers that animals shit in!" lamented another model, Behati Prinsloo.
Also co-hosting was Entourage star Adrian Grenier, wearing a spiffy black suit, red tie, red Converse sneakers and a bit of a scowl. So what are next season's plot developments? "There's not going to be a next season!"huffed the HBO heartthrob. "You write to your studio and tell them to give more to the writers and stop hoarding all the money for themselves!" O.K.!
In the crowd: MTV host Damien Fahey, actor Michael Pitt, director Terry George, musician Moby, and cuddly designer Isaac Mizrahi with his boyfriend Arnold Germer, an actor. "Arnold and I are so looking forward to just going to Bridgehampton with our kiddies [dogs] Dino and Harry, and I'm looking to go on an eating binge," Mr. Mizrahi said of his holiday plans. "Even though I shouldn't really do that!" Any Christmas wishes? "I won't even say! I have my heart set on something but it's too late!I'm not even going to ask because he won't get it for me!"