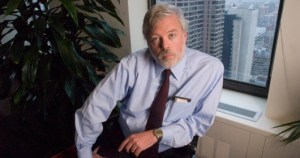 The state economic development agency and the private developers behind Moynihan Station have targeted an unlikely pot of money to help build the proposed $3 billion transit center in midtown west: homeland security dollars.
"This is a logical place for people to invest homeland dollars," said James Dyer, a Washington, D.C.-based lobbyist who is representing Vornado Realty Trust and the Related Companies, the two firms that formed a joint venture to redevelop the Farley Post Office into Moynihan Station. "Anytime you have a station carrying more people through it that go through the airports at any one time, you obviously are going to have security concerns."
The developers paid Mr. Dyer's firm, Clark & Weinstock, $220,000 in the first half of the year to lobby the Department of Homeland Security as well as other more obvious targets, such as Amtrak and the Department of Transportation, according to federal lobbying records.
The $865 million proposed conversion of the Farley Post Office, at 33rd Street and Eighth Avenue, into a train station had been fully funded when the Pataki administration approved it last year. But that proposal was never finalized because the developers proposed a far broader, and expensive, plan that involves moving Madison Square Garden and redoing Penn Station underneath.
The new Penn Station, dubbed Moynihan East, could cost as much as $2 billion, according to rough estimates. In addition to the $450 million that the developers have reportedly committed, the state is expected to contribute more and also seek funds from the city and the federal government, including the Homeland Security Department. The fund amounts aren't yet clear.
"We do believe that we can make the case that federal transportation funding, homeland security funding and historic preservation tax credits are all appropriate sources of funding for this project," Patrick J. Foye, the co-chairman of the Empire State Development Corporation, said. "I think with 550,000 New York and New Jersey residents going through this facility every day as a key regional and national transportation hub, that it would be entirely appropriate for the federal government to contribute homeland security funds."
Tom Schatz, the president of Citizens Against Government Waste, a private nonpartisan watchdog organization based in Washington, said that the lobbying activity at the federal level indicates that the developers are seeking special earmarks for the project. The Homeland Security Department gives to few of these so-called pork projects, he said, distributing its money instead in lump sums to states and cities to divvy up, or to particular types of security operations, such as screening cargo that arrives by ship.
Mr. Schatz said that it would distort the purpose of homeland security funding if money was used to build a new train station.
"After the facility is completed, there might be some money available for security operations," he said. "But if [the] Homeland Security [Department] becomes a builder and starts supporting construction, almost anything can be built with homeland security money. That is a big concern because that takes money away from causes that are more crucial for protecting homeland security, such as protecting the ports, protecting the borders, screening passengers in airports."