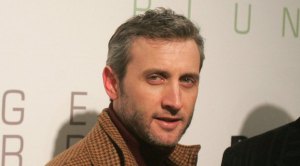 MSNBC's much-noted shift left continues apace. First, on Friday, Dan Abrams used his blog to announce a new series, Bush League Justice, which looks at the politicization of the Justice Department under President Bush.
Writes Mr. Abrams: "This series is long overdue. The scandal with the firings of the U.S. Attorneys under Attorney General Alberto Gonzales exposed the underbelly of this administration's penchant for putting politics over objectivity and qualifications. We now hope to dissect the subject more fully and help spur change."
Then yesterday, TV Newser revealed that, according to sources, the network has taped a pilot featuring Air America host Rachel Maddow, appearing alongside MSNBC primetime VP Bill Wolff. That news led Inside Cable News to speculate that the liberal Ms. Maddow, who's already a frequent MSNBC guest, may be being considered as a replacement for the conservative Tucker Carlson, whose days at the network could well be numbered.
Of course, it would make sense that the network is looking for a way to keep Mr. Wolff around.