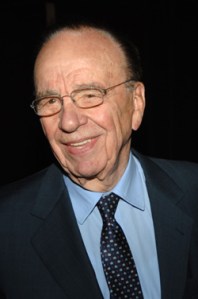 At 10 a.m. on Dec. 13, at a downtown Marriott hotel, Dow Jones shareholders will formally accept Rupert Murdoch's bid to take control of the company and The Wall Street Journal.
By the next day, Dow Jones will be under the management of Mr. Murdoch's handpicked new leaders, announced last week: Les Hinton, who had been running a group of News Corp.'s British papers, will become Dow Jones CEO, and Robert Thomson, who had been the editor of the The Times of London, will take over as the publisher of The Journal.
News Corp. is set to take over the day-to-day running of the company beginning Dec. 14, but Mr. Murdoch's plans have been in place for some time. Richard Zannino, the outgoing Dow Jones CEO, told Off the Record that shortly after Labor Day, the two men agreed that Mr. Zannino would leave the company. Very shortly thereafter, he said, Mr. Murdoch made the decision to bring in Mr. Hinton and Mr. Thomson.
"Oh, I knew for a while," said Mr. Zannino, referring to the identity of his replacements. "I knew well in advance. Once Rupert and I agreed I'd move on, then he started sharing with me ideas about what he would do."
Mr. Zannino may stick around for a while to help with the transition. "I told Rupert that I'll stay for as long or as little as he would like me to stick around," Mr. Zannino continued. "I'll help him finalize next year's budget and put planning issues to bed."
Mr. Zannino wouldn't offer further details on the process, but said Mr. Hinton's and Mr. Thomson's hires were driven exclusively by Mr. Murdoch. "That was all Rupert," he said.