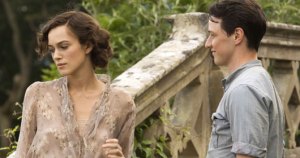 ATONEMENT
Running time 123 minutes
Directed by Joe Wright
Written by Christopher Hampton
Starring Keira Knightley, James McAvoy
Joe Wright's Atonement, from a screenplay by Christopher Hampton, based on the novel by Ian McEwan, transforms a misguided adolescent error of judgment with tragic consequences into an ironic epic of a heroic period in British history. This serves to illuminate how helpless we all are when we try to swim against the current of global forces, not to mention the inexorable tide of time itself. This film is also one of the most successful adaptations of a distinguished novel I have ever seen. It gives me renewed faith that good and great movies can still be made even under the present chaotic conditions in the world's film industries, and in the proliferation of technological substitutes for old-fashioned habitual moviegoing.
I must confess at this point that, try as I may, I cannot explain why Atonement is so good without giving away its convoluted trick plot. So those of my readers who have either not read the book or read or heard anything about the twists in the film's narrative are advised to read no further in this essentially rave review, if they are in the habit of feeling betrayed by the critic's disclosure of the story's details.
The fact is that I had not yet read the book when I saw its screen adaptation. Would I have liked the film less without the element of surprise if I had? I don't think so, but I cannot be sure of what my hypothetically more informed reaction would have been in this particular instance. These days there are so many spillers of the beans, from the ever more copious coming attractions to the ever more uninhibited entertainment bloggers, that we reviewers are caught in a constant quandary. To tell or not to tell, that is the problem. Yet if I choose to tell on this occasion, it is because I genuinely feel that there is no other way to review it, particularly since I am notorious as a fanatical defender of narrative in the cinema as a sine qua non even against the most accomplished cinematic experiments in pure abstraction.
The first part of Atonement begins and ends on a fateful summer day and night in 1935 on the wealthy Tallis family's luxurious English estate in Surrey. (Actually, this sequence was filmed on location in and around a privately owned mansion in Shropshire.) It is there that we first encounter Briony Tallis (Saoirse Ronan), a precocious writer of plays, of which her mother, Emily Tallis (Harriet Walter) enthusiastically approves. We encounter also Briony's older sister, Cecilia (Keira Knightley), who has become romantically attracted to Robbie Turner (James McAvoy), the Cambridge-educated son of the Tallis family housekeeper, Grace Turner (Brenda Blethyn). Robbie has always been treated as part of the Tallis family, and Briony has also developed a crush on him, but then she spots him embracing Cecilia, and is outraged by his betrayal. Hence, when a young female guest of the Tallis family is criminally molested in the night and cannot identify her assailant, Briony steps forward to accuse Robbie of the crime out of pure spite. Indeed, Briony goes so far as to convince an initially skeptical police inspector that she had seen Robbie furtively leaving the scene of the offense. The sequence ends with Robbie being taken away by the police as his mother bangs angrily on the police car windows. We learn later that Robbie is promptly convicted and imprisoned for a brief time until he is persuaded by the authorities to join the army and thus get his sentence reduced on the eve of World War II.
From that fateful day and night in 1935, the second part of Atonement flashes-forward to 1940, on the eve of the British evacuation of its expeditionary force from Dunkirk. Briony, now 18, and now played by Romola Garai, and Cecilia (still played by Ms. Knightley) are serving as nurses in two different military hospitals in London. We learn that Cecilia has never stopped loving Robbie, and she makes him promise to return to her when the war is over. By now, Briony has deeply regretted her action, and seeks to make amends in any way she can, particularly when, in a flash of memory, she recalls another male dinner guest as having been the real culprit.
Meanwhile, Robbie is wandering with two comrades in arms across empty poppy fields in the general retreat of the British and French from Hitler's victorious Nazi legions.
All the book's locations in both Britain and France were replicated entirely on British soil, at times with masses of extras. A great deal of stylization is employed in the creation of the historical spectacles, but we do not realize until almost the very end of the film how much of the story has been invented in Briony's fertile but now novelistic imagination to atone for the actually irrevocable wrong she inflicted on Robbie and Cecilia.
What is most remarkable about the film, and most deserving of praise and admiration, is the astounding continuity of Briony's character, sustained by three different actresses: Ms. Ronan as Briony at 13, Ms. Garai as Briony at 18, and the ineffable Vanessa Redgrave, one of the great actresses of the 20th and 21st centuries, as Briony in her climactically repentant 70's, confessing her fictions in her self-proclaimed final novel, which makes up most of what we have been credulously looking at as real in the second part of the film. Her readers, the elderly Briony tells her interviewer, would never appreciate the bitter, brutal finality of the truth. Despite the consoling images she provides in her novel, and reenacted in the film, of Robbie and Cecilia being reunited after Dunkirk, and walking hand-in-hand on the beach, with the White Cliffs of Dover in the background, both Robbie and Cecilia, in fact, die from enemy action in Dunkirk and London respectively, in 1940. It hurts me even now to report this discordance between a hopeful fiction and a hopeless dose of reality, for which there is not adequate atonement in Briony's lifetime.
Mr. Wright and Mr. Hampton have fashioned an enduring cinematic masterpiece out of a very difficult and diffuse novel, albeit one written with a very precise brilliance. I would extend my kudos to the three actresses who reportedly worked very hard to coordinate their distinctive bodies to correspond to the single character of Briony. Ms. Knightley and Mr. McAvoy make a very complex and charismatic loving couple as Cecilia and Robbie. Finally, for the first time ever, I am going to single out a hair and makeup designer: Ivana Primorac, for her work on the Three Brionys in One.