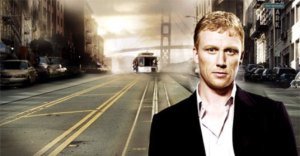 Sorry, Kidd! NBC lapsed on its deadline to pick up time-travel drama Journeyman, starring Kevin McKidd, for a full season. According to Reuters, the show posted its lowest adults (aged 18-49) rating on Monday without Heroes to lead the charge.
The remaining two original segments will air as scheduled, an NBC spokeswoman said.
NBC recently handed out full-season pickups to two of its four rookie scripted series, "Life" and "Chuck."
Since the production of most scripted series has been suspended because of the strike, such orders are considered a vote of confidence to the shows and a potential renewal for next season if the additional episodes can't be produced by the end of this season.
In limbo is the fate of the fourth new NBC series, the once-promising "Bionic Woman," which has been sliding in the ratings since its premiere.