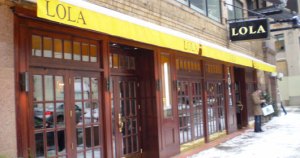 Editor's note: There are corrections for this story at the end of it.
Sean Sweeney isn't planning on dining at Lola anytime soon.
"I don't want spittle in my grits," he said.
Indeed, Mr. Sweeney probably would be persona non grata at the controversial soul-food restaurant at 15 Watts Street in SoHo, which finally opened for business, much to his chagrin, nine weeks ago.
Mom-and-pop proprietors Tom Patrick-Odeen and Gayle Patrick-Odeen have told The Observer that their longtime neighborhood activist foe would be treated like any other customer—if, that is, he ever dared to tiptoe through the front door.
But, at this point, choking back spit would require some serious self-control.
After more than three years of costly legal bills and contentious hearings—at times intensified by racially charged rhetoric ("They tried to portray us as a hip-hop club," Ms. Patrick-Odeen has claimed)—the bitter standoff continues.
On Wednesday, in fact, lawyers for both sides are scheduled to return to court, as Mr. Sweeney's litigious, anti-bar-sprawl group, the SoHo Alliance, tries for a second time to nullify Lola's liquor license.
The first round of lawsuits and subsequent appeals ultimately resulted in upholding the license, thus allowing the richly renovated 130-seat eatery to offer an extensive wine list and cocktail menu, featuring $14 martinis with such soulfully inspired titles as "Private Dancer" and "Sexual Healing."
But, contrary to musical wisdom, Lola doesn't always get what Lola wants.
The restaurant's opponents find consolation in having pressured Lola to limit its hours to the very un-Manhattan-like closing time of 1 a.m. and to forgo its plans for outdoor drinking and dining altogether.
Perhaps most significantly, however, at least from Lola's owners' point of view, is the outright prohibition of live music—an especially tough blow for a venue formerly known for its "hand-clapping brunch that makes you want to dance," as the Zagat Survey once put it. (That now-infamous blurb, culled from Lola's former days in Chelsea, also became a point of contention in court, as neighbors including Mr. Sweeney voiced concerns about noise.)
"We're struggling without live music," said the demure Ms. Patrick-Odeen, as she sat by the bar on Sunday night flanked by her sharp-dressed husband and roughly a half-dozen bored-looking members of her wait staff.
The place was entirely devoid of diners when The Observer showed up at 7 p.m. Only a few other parties arrived—no more than five tables total—over the course of the next two hours.
No one danced. No one even clapped hands, as the soulful recordings of James Brown and Aretha Franklin played at a moderate volume in the background.
"Well, they should've thought of that three years ago when I warned them that we don't want live music in SoHo," said an unsympathetic Mr. Sweeney. "We don't want to become Chelsea or the meat market."
For Lola to legally stage live jazz bands again would likely require even more applications, hearings and regulatory lobbying, including a return trip to local Community Board 2. And guess who else would be there?
Cue Mr. Sweeney: "After this personal vilification and playing the race card, she wants us to do her a favor? Even if they were nice, we would probably say no."
For the moment, at least, Lola attorney Eric Sherman is focused on simply keeping the pricey drinks flowing. (How else will they pay his hefty legal bill?)
The debate this week will center, as it did all along, on whether Lola's license serves the "public interest," given that the surrounding neighborhood already boasts a bunch of other bars.
Arguments will be heard by the same judge, Marilyn Shafer, who initially nixed Lola's license in 2005.
"I think that, in light of the appellate division decision [which reinstated the license] and the arguments we're presenting, that the court will come out differently," Mr. Sherman said.
Opposing attorney Barry Mallin, meanwhile, isn't content with the restrictions on Lola's hours and music; he's gearing up for the final death blow.
"I feel that we have gotten a victory in the sense that it may not be the kind of establishment that would cause a lot of noise in the community," he said. "However, we still feel they should not have gotten the license in the first place."
CORRECTION: The original article mischaracterized the roles of detractors and regulators in affecting some aspects of Lola's operations. In fact, Lola's owners voluntarily scaled back the restaurant's closing time from 4 a.m. to 1 a.m. and further agreed to forgo outdoor dining amid public pressure but prior to the State Liquor Authority's involvement and subsequent litigation. Also, the role of opposing attorney Barry Mallin was clarified.  The Observer regrets the errors.