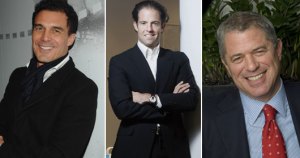 One of Robert K. Futterman's favorite photographs shows his kids standing in front of what is now the Apple Store on Fifth Avenue.
Hanging in the empty window behind them is, of course, a sign sporting Papa Futterman's own blue "RKF" logo, inspired by his "real-estate hero," Edward S. Gordon, and his longtime client, the GAP.
This week, The Observer checks in on 10 modern-day "real-estate heroes" (or villains, depending on your perspective) and what they're up to.
Take Mr. Futterman, whose GAP-inspired signs have come to dominate Manhattan storefronts over the past 10 years (and are now also cropping up across Los Angeles and Las Vegas) from Time Warner Center to Grand Central Station to the Plaza Hotel—even the abandoned and notoriously rat-infested KFC-Taco Bell space in Greenwich Village.
Hey, they can't all be Victoria's Secret.
As Mr. Futterman explained, "At the end of the day, if economics are driving a situation, you may not end up with Anthropologie, J. Crew and Steve Madden shoes. You may end up with AT&T Wireless and Starbucks."
Paula Del Nunzio treats every multimillion-dollar mansion "as if it were a consumer-packaged good product." Like Tide or Crest.
That makes perfect sense. The former Ogilvy & Mather ad exec once handled the Proctor & Gamble account.
"Each one has a name," Ms. Del Nunzio, now senior vice president and managing director at Brown Harris Stevens, said of the many high-end properties she markets.
Consider the Duke-Semans Mansion on Fifth Avenue, which sold for $40 million. Or better yet, the Harkness Mansion, which went for $53 million—the highest price ever paid for a house in Manhattan.
Now, Ms. Del Nunzio is shooting for an even bigger record: $59 million. But it will require a little rebranding. The East 67th Street address is best known as Penthouse magazine founder Bob Guccione's former digs.
She prefers to call it the Milbank Mansion, after a much earlier inhabitant. "Because," she said, "everyone came in sort of snickering and poking fun." (So much for porno chic.)
Lockhart Steele is putting a lot of stock in his "outsider perspective" on New York real estate. Literally.
Armed with a reported $1.5 million in new financing, the 33-year-old founder and president of the popular Curbed network of blogs—which aim to "democratize" the dialogue on neighborhood development, local restaurants and retail—is beefing up his staff and expanding into new markets. (Next up: Curbed Chicago.)
"Insiders initially were probably baffled," he said of the gossip-heavy Web sites, which thrive on readers' tips. "I'd say now we're somewhere in the range of mild acceptance."
Still, the sites' skeptical tone sometimes stirs hostile reactions.
Just last year, an angry Tungsten Properties employee virtually stalked Mr. Steele over a Curbed item describing a section of Howard Street as "a blight to SoHo."
"We occasionally get a crazy letter from someone who's like, 'I'm gonna sue you. I can't believe you wrote that about my building,'" said Mr. Steele, who downplayed the standoff as an isolated incident. "But it's almost always a bunch of hot air."
André Balazs fancies himself as "a classic, old-fashioned hotelier."
He takes pride in the fact that the Mercer, his first effort at upscale lodging, which opened in SoHo nearly two decades ago, was "the smallest hotel that had been built in New York since 1929."
These days, though, Mr. Balazs seems to be supersizing, what with his hotly anticipated, High Line-straddling Standard New York slated to open in 2008.
"It's bigger than anything we've ever done before," said Mr. Balazs, who is "moving back into hotels with a vengeance," after years of post-Sept. 11 condo projects, including One Kenmare Square, 40 Mercer and William Beaver House.