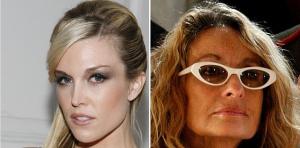 Who can claim the title of 2007's most socially social New York society clan? In a major year-end party wrap cobbled together by Style.com, the aesthetically-inclined Web site asks—and, thank gawd, answers—that very question.
On one side of the party divide is the Peter and Minnie Davis/Tinsley Mortimer team. (Mr. and Ms. Davis are, for those who didn't know, Ms. Mortimer's siblings-in-law.) On the other: Ann Dexter-Jones and her three party-hardy kids—Samantha, Mark and Charlotte.
As Style points out, it's been quite a year for both clans: Topper and Ms. Mortimer's wedding got a major write-up in the Times; and Ms. Davis tied the knot with Syriana director Stephen Gaghan. (What they don't mention, however, is that 2007 was also the year society scribe Mr. Davis found true love in a certain young social, Paul Johnson-Calderon.)
Meanwhile, Mr. Ronson's single, Stop Me, climbed to the number-two spot on the British charts—no small feat, to be sure. What's more, Samantha Ronson was, for a while anyway, queen of the tabloids, soaking up the buzz as her friendship with Lindsay Lohan continued to heat up. And then there's their younger sis Charlotte, who we caught up with not long ago at her Nolita boutique, where she was introducing her 2007 Resort collection. Ms. Dexter-Jones, too, told us all about her new lease on life post-divorce, loving the high-thread-count sheets at her new digs in the Bowery Hotel.
In the end, though, there can only be one winner; (as Heidi Klum might say, "You're either in or you're out.") And in this case, Patrick McMullan must pick the winning bunch—"that ultimate litmus test of social visibility." While the Dexter-Jones/Ronson squad racked up an impressive 422 photos credits on the social shutterbug's Web site, the Davis/Mortimer clan reigns supreme. The trendy trio said "cheese" for Mr. McMullan's lens a whopping 732 times.