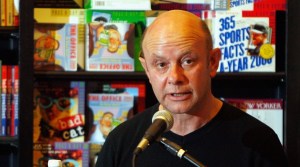 Nick Hornby is publishing a new "Young Adult" book about a teenage boy who grapples with the prospect of becoming a young dad by talking to a poster of skateboarder Tony Hawk on his bedroom wall. Thanks in part to Mr. Hornby's big baby main characters, a literary "Young Adult" hero's age has increased from 17 years old (tops) to a moldy 25! The immaturity of the iGeneration strikes again!
He's also, apparently, exposing a slew of books that the literary world is too snobby or stupid to recognize his Believer column "Stuff I've Been Reading". He's walking around asking "Does anyone know who Robert Cormier is?" in the same way people in his generation used to ask "Has anyone ever heard of this Vonnegut guy?" Oh, really?
When Michael Cart was asked to put together a YA panel at last summer's American Library Association conference in Washington, Hornby was the first person he invited. Cart, a former librarian who now writes, lectures and consults about books for young adults, had read an advance copy of "Slam" and thought it was "absolutely terrific."
At the conference, Cart and others bombarded him with the names of YA favorites. Hornby says it was a "culture-changing trip."
"I've discovered a previously ignored room at the back of the bookstore that's filled with masterpieces," he told his Believer readers.
He went bonkers over "Skellig," by David Almond, which he called "one of the best novels published in the last decade" and described as "the beautifully simple and bottomlessly complicated story of a boy who finds a sick angel in his garage, a stinking, croaking creature who loves Chinese takeaways and brown ale." He moved on to YA works by Francesca Lia Block, Philippa Pearce, Toby Barlow and Gene Luen Yang.