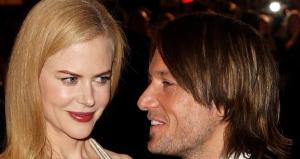 Despite talk of marital strife, Nicole Kidman and husband Keith Urban are expecting their first child. According to Britain's Daily Mail, the 40-year-old actress and the country musician—who has, since they married in June of 2006, been dealing with substance abuse issues—broke the good news to their families over the Christmas holiday.
If all goes well, the child will be Ms. Kidman's first successful delivery. During her marriage to Tom Cruise, the divorced couple adopted two children together—Isabella, 14, and Connor, 12. In a recent interview with Vanity Fair, The Golden Compass star also revealed that she suffered a miscarriage when married to Mr. Cruise. "[T]that was really very traumatic," she told the magazine at the time.
The actress and Mr. Urban spent Christmas together in Sydney, where Ms. Kidman finished working on director Baz Luhrmann's forthcoming Australia.
UPDATE: Since the Daily Mail story broke, an Australian publicist for Ms. Kidman has publicly denied that the actress is pregnant.