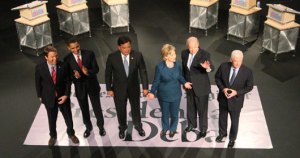 Dec. 13—There are a few ways of judging the "winner" of a presidential debate.
If one candidate blunders egregiously—think of Bob Dole's refusal to sign a "no new taxes" pledge in the final pre-New Hampshire debate in 1988—then that candidate's main rival (or rivals) wins.
Likewise, if one candidate breaks through the on-stage clutter with a catchy sound-bite or memorable bit of theater that will be replayed endlessly in the media—like Ronald Reagan's "I paid for this microphone" dramatics in 1980—then that candidate is the winner.
And if nothing particularly noteworthy transpires, then the front-runner wins by default.
But it's tough to place today's Democratic debate—the final encounter between all of the candidates (minus Dennis Kucinich) before the Jan. 3 Iowa caucuses—into any of these categories.
There were no unforced errors, unless you count John Edwards uncharacteristically mangling one of his standard lines and promising to make the country "better than we left it" and Hillary Clinton's peculiar—but hardly damaging—declaration that Iowa Senator Tom Harkin "has been working like a Trojan."
Nor did anyone rise above the monotony with any kind of memorable moment. Conflict between the candidates was almost nonexistent.
At one point, Mrs. Clinton did launch what could be considered an attack on Mr. Edwards and Barack Obama, using a 30-second "free statement" to say that "Everyone wants change. Everyone on this stage has an idea about how to get change. Some believe you get it by demanding it. Some believe you get it by hoping for it. I believe you get it by working hard for it."
And later, when Mr. Obama was asked how he could promise change when his advisors include veterans of Bill Clinton's administration, Mrs. Clinton—standing clear across the stage from Mr. Obama—broke out her loud "Fox News" laugh and snickered, "I want to hear that!" Mr. Obama replied: "Hillary, I'm looking forward to you advising me as well."
While Mr. Obama got the better of that momentary exchange, it was hardly enough to make him the clear winner. And besides those two incidents, the main drama—at least on the CNN broadcast—was provided by the news crawl at the bottom of the screen, which revealed the current and former baseball players implicated in the George Mitchell report that was unveiled during the debate. It's not hard to imagine even well-intentioned Iowans finding themselves more riveted by the names—Lenny Dykstra?—than by Chris Dodd and his invocation of "Gramm-Rudman-Hollings," a 22-year-old piece of deficit reduction legislation championed by three retired Senators.
As with yesterday's soporific Republican debate, moderator Carolyn Washburn, the editor of the Des Moines Register, conducted the proceedings in a way that should guarantee her lifetime membership in every Good Government group in the country. She asked relentlessly policy-centric questions (basically the same ones that she asked the Republicans), shunned follow-ups, and seemed to regard the concept of direct engagement between the candidates as sinful.
The candidates universally fielded her queries competently, if not with much style. Often, their basic policy prescriptions overlapped, as when several candidates talked about the cost savings of ending the Iraq war in addressing how they would move toward a balanced budget.
And, since there were scarcely any follow-up questions and six of them on stage, candidates were largely free to stick to their broad and well-honed talking points. Hillary Clinton, for example, handled a question about what she would do in her first year in office by promising—as she does in her stump speech and as she has in previous debates—to do away with the Bush administration's "cowboy diplomacy."
The one issue where Mrs. Clinton has sought to create substantive distinctions with Mr. Obama—health care—was also addressed, but neither Mrs. Clinton nor Mr. Obama mentioned the other's plan.
Since there really were no surprises, this debate should fall into that third category: an uneventful forum in which the main beneficiary is the front-runner.
But in Iowa, there is no front-runner. Mr. Obama has received much attention for having edged into a tiny lead over Mrs. Clinton in some recent polls, but they are effectively neck-and-neck. And Mr. Edwards, who has faded a bit over the past few months, remains just a step behind them.
Iowans will caucus exactly three weeks today. The only thing that can be said with certainty after today is that the outcome won't be determined by a debate.