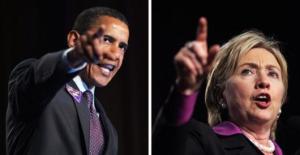 The Obama campaign is describing a new Web site linked to the Clinton campaign for the purpose of criticizing Barack Obama on his record of "present" votes in the Illinois state legislature as the spearhead of a broader attack strategy by the Clinton campaign leading into the Iowa caucuses.
"I don't think anyone is under the impression that these attacks will stop," said Jen Psaki, a spokeswoman for the Obama campaign. She added, "We are not naïve. We know that attacks are going to be headed our way. It's probably not within our control to stop them but the best thing we can we do is be prepared to present clear information and the facts from the campaign and from Senator Obama if needed."
But this time, rather than offering apologies, the Clinton campaign is livid that the Obama campaign is characterizing criticism of his voting record as a personal attack. The Clinton campaign will hold a conference call at 2:30 most likely to make the argument that such questioning of Obama's record is fair and proper.
When I asked the Obama campaign to address exactly how criticism of the candidate's voting record qualified as a personal attack, or why Obama voted "present" on some politically tough bills in the first place, Psaki referred me to the comment Bill Burton, Obama's national spokesman, gave in today's New York Times. ("No politically motivated attacks in the 11th hour of a closely contested campaign can erase a record of leadership and courage," Burton told the Times.)