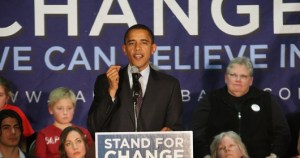 Obama campaign manager David Plouffe is conducting a conference call about outside spending by "shadowy groups" on behalf of John Edwards. He said, among other things, that Edwards "has obviously showed special skill in benefiting from outside spending and 527s."
During the call, a rival campaign sent out on oppo research memo about — David Plouffe. The memo details work that the firm of Plouffe and David Axelrod did for an independent expenditure entity in the past.
UPDATE: Here's a report from the conference call:
"We feel we are in terrific shape," said Plouffe as he gamed out Obama's path to the nomination.
Plouffe laid out the idea that while John Edwards, would just have $17 million to spend until the Democratic National Convention, the Obama campaign has enough money to continue campaigning after Iowa and New Hampshire. He added, "over 96 percent of our donors have not maxed out."
Elaborating on the prowess of the campaign's get-out-the-vote effort, Plouffe looked beyond Iowa to the other primary states. He said that in New Hampshire, while Obama's numbers are climbing, "Senator Clinton is receding. Senator Edwards is stuck in the teens" and he also put forward the idea that Obama has an especially good shot of winning with New Hampshire independent voters (citing a statistic that independents are 44 percent of the state's electorate).
In South Carolina, he noted,"Edwards in a very poor third right now, largely because he is not getting any African American support to speak of."
Then Plouffe turned his attention to the millions of dollars of spending by groups sympathetic to Edwards, saying, "He has obviously showed special skill in benefiting from outside spending and 527s."
Plouffe added that "some of the Edwards 527 money comes from a donor in New York" who, he alleged, has previously given hundreds of thousands of dollars to his P.A.C.
"We just think it is something that deserves some scrutiny," he said.