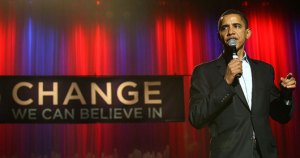 Fresh from a weekend of Oprah Winfrey-related hysteria, Barack Obama took to the West Coast last night for a Los Angeles fundraising rally.
The event, held in the Gibson Amphitheatre amid the garish neon of Universal City, was aimed at a youthful audience, with student tickets available for $25 and the rock band The Goo Goo Dolls being the main attraction, Mr. Obama aside. Organizers estimated attendance at around 5,000.
Mr. Obama departed from his standard stump speech several times during a 37-minute address.
After saying, "It's not just our military that makes us a great nation", Mr. Obama described a specific presidential aspiration:
"See, I want to go before the United Nations. As president of the United States, I want to go before that General Assembly and say, America is back. We are ready to lead again.
"We are ready to lead again by building schools around the world to teach math and science instead of hatred of America. We are going to lead by tackling HIV/AIDS in sub-Saharan Africa, because it's the right thing to do. We are going to lead by bringing an end to the genocide in Darfur because we are not a nation that turns a blind eye to slaughter."
Those sentiments earned Mr. Obama one of several standing ovations.
On a very different note, Mr. Obama poked fun once again at the now-infamous decision by Hillary Clinton's campaign to cite a kindergarten essay he allegedly wrote as evidence of his long-held presidential plans.
"I know that some of my opponents have been rifling through my kindergarten papers. I am going to be releasing those papers tomorrow," Mr. Obama said to laughter.
"There is some scandalous stuff in there. I experimented with coloring outside the lines when I was in kindergarten. Pulled on a girl's ponytail once—and liked it."
For all the jokes, Mr. Obama faces an uphill fight in California. Although recent data on voter intentions is limited, a December 4 poll by Survey USA gave Mrs. Clinton a commanding 50 per cent to 24 per cent lead over the Illinois senator in the state.
Last night, the campaign tried at least one novel tactic to redress the balance. Buffy Wicks, Mr. Obama's state field director, coordinated the distribution of lists of names and phone numbers to the crowd. From the stage, Ms. Wicks then encouraged each audience member to call four of the numbers on the list to make a scripted pitch on Mr. Obama's behalf and try to enlist new volunteers.
As Ms. Wicks noted, this should have produced around 20,000 calls. Judging from reactions that could be overheard in the vicinity of the Observer, however, the success rate, as with most phone banks, was not especially high. Several calls seemed to be terminated abruptly by the person on the other end of the line.
Given the setting, it was no surprise that a number of figures from the entertainment world popped up to offer testimonies on Mr. Obama's behalf.
While the advanced publicity for the event referred to Scarlett Johansson, Jessica Biel, Will.I.Am and Anthony Kiedis of the Red Hot Chili Peppers as among the attendees, inviting ticket-buyers to "join them" at the event, none of those people appeared on stage, and it was not clear if they were there.
Rapper Nick Cannon MC-ed proceedings, which also featured a musical performance from R&B star Ne-Yo
Other speakers including veteran actor James Whitmore (The Shawshank Redemption) and TV personality Giselle Fernandez lacked real star power. Mr. Whitmore, who kept his remarks brief and eloquent, received a more enthusiastic reception than Ms. Fernandez, whose address incorporated a lengthy paraphrasing of Mr. Obama's 2004 speech to the Democratic National Convention.
As for Mr. Obama himself, he paid tribute to House and 24 actor Kal Penn, who also addressed the crowd. Mr. Penn, the candidate noted, had become a regular volunteer for the Obama campaign in Iowa.
"Kal's not fooling around," Mr. Obama said cheerfully. "Kal's in the office in the morning eating pizza next to the staff making phone calls. The guy's an animal."
On serious issues, Mr. Obama offered a lengthier criticism of the No Child Left Behind Act than he normally does, complaining, "I don't like the thinking that, just by imposing standardized tests so teachers can no longer teach art or music or social studies, that somehow we're fixing our school system."
The climax of Mr. Obama's stump speech customarily refers to people "standing up" to change America, in reference both to the civil rights movement and to the need for political courage in general.
Last night, Mr. Obama expanded on the theme, celebrating those who "stood up so women could have the right to vote. They stood up so unions had the right to organize. They stood up so that African Americans could be part of a more perfect union.
"They stood up to fire hoses," he continued. "They stood up to dogs. They stood up to jails. They stood up so that the American dream could live for those who hunger for opportunity, for those who thirst for justice."
Kathleen Abrahams, an elementary school office manager from Sylmar, Calif, said she had once been a supporter of Hillary Clinton but was now in Mr. Obama's camp.
"Our country is still so divided over race," Ms. Abrahams, who is white, said. "I feel like he is the one person who could pull it together at last. I mean, it's a long time since Abraham Lincoln."