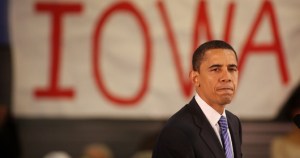 Here's an email I got earlier this morning:
Azi,
I've been out here in Mason City, Iowa knocking on doors and helping
get out the vote for Obama. I saw some of the postings you've done on New York elected officials coming out to Iowa for Senator Clinton and wanted to fill you in a bit on what's happening in terms of New
Yorkers working in Iowa for Senator Obama.
[skip]
We're not elected officials, we're just regular New
Yorkers who came out here because we want to see needed change in our country. We have a lot of hope that our country can do better and we believe that Barack is the candidate who can offer that hope. A lot
of my friends have asked me why I haven't taken a holiday vacation to
a beach in the Caribbean. While a Caribbean vacation would be fun,
this is my chance to effect a needed change in this country. From
everything I have experienced out here so far I know that I made a
great choice and I am eagerly anticipating everything to come between
now and January 3.
All my best from Mason City,
Steven Newmark
Young Lawyers for Obama
UPDATE: Here's Newmark's Obama page, if you're curious.