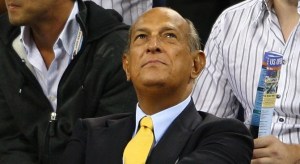 It's springtime for Oscar in autumn! We just came from Oscar de la Renta's Pre-Fall 2008 show, held in an old church on Park Avenue and 63rd Street. It seems even Old School fashion bigwigs like Mr. De la Renta are starting to acknowledge the fact that balmy temps can, these days, extend well into November.
Sure, there were plenty of black cashmere sweaters, dark brown suede boots, tortoiseshell patent clutches and sepia wool faille jackets to whet the appetites of onlookers like Vogue's Anna Wintour and, a few seats to her left, Teen Vogue's Amy Astley. But what really drew a few wide-eyed gasps—and a lone clap—from the modish onlookers was the abundance of color. Bright color—in floral, sequined prints, no less! Circumambulating one another in figure-eights and cockeyed circles, tall models (in even taller boots) stomped around the platter-shaped runway as if in some nightmare runway challenge on ANTM. At least their floral cloqué brocade skirts, harlequin ribbon belts, plum silk georgette dresses and emerald silk hammered satin gowns made it easy to avoid an eminent collision.
After seeing a fur-clad Ms. Wintour beeline towards Mr. De la Renta post-show for a warm congratulatory embrace, debuting the collection while the Rolling Stones' Under My Thumb played seemed like a great call. Asked what was up with all the bright floral patters for fall, the Dominican-born 75-year-old couturier chocked it up to commerce. "We start delivering this merchandise in May, so people can buy this right away!" he told The Daily Transom with a chuckle after the show.
The collection was, for the most part, classic De la Renta, meaning, of course, that it was also just plain classic. Nearly every frock, every suit could have come—after a few fresh twists and dabs of color—from the closets of femmes Robinson in The Graduate. Mr. De la Renta produced striking new versions of his iconic flowing, heavily-ruffled, door-frame-creaking ball gowns that put his name time and again on the red carpet, via the backs of Hollywood's leading ladies. (Freakishly-perfect figures sold separately.) There were more offerings, too, of the playful, billowy embroidered skirts that the designer so often pairs with contrasting tailored tops and slim jackets.