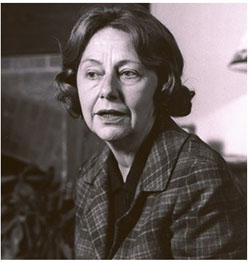 A fond farewell to the late Elizabeth Hardwick, who gave New York readers heaps of pleasure over the past six decades. Here, by way of tribute, is her meditation on the death of a great New York writer (it appeared in a brief, passionate biography she published seven years ago, when she was already 84): "He died at home in his own house with a wife to care for him in his great distress and need. It appears he came to be grateful for her long years as Mrs. Melville, a calling certainly unexpected in her youth. Old age and habit, a settling down, a relief from the active 'writhing' D.H. Lawrence named the condition of Herman Melville's soul. If so, this ornament and pride of our culture was to end his days with a sigh, a resigned, bearable, pedestrian loneliness."
HAROLD BLOOM, SELF-PROCLAIMED "latter-day Gnostic," has a heroic capacity for peddling nonsense, as his latest book, Fallen Angels (Yale, $16), amply confirms. We are all, he tells us, fallen angels. He also tells us that because of our obsession with the visual, we are forgetting how to read, and can no longer distinguish between the fallen and the unfallen. Never mind. Skip the text of this ultra-slim volume of voodoo theology and literary waftings; linger instead over the bold, instantly appealing "illuminations" by Mark Podwal. Yes, it's a visual gratification—but then Fallen Angels is, after all, an illustrated book.
FALLEN ANGELS, FALLEN gods. Maria Phillips had an ingenious idea: What if the Olympians were alive among us today—sharing a shabby apartment in London, in fact, their powers sadly depleted and their legendary bickering unabated? Gods Behaving Badly (Little Brown, $23.99) begins brilliantly, bubbles along pleasantly and then nearly sinks under the weight of a cataclysmic plot. No one who has met Artemis in her current incarnation (she's now a dog walker), or Apollo (TV psychic), will mind in the least.
ONE OF THE many reasons for admiring William Trevor's 12th collection of stories, Cheating at Canasta (Viking, $24.95), is the beautifully simple and direct way he presents his characters. Meet Mallory from the title story: "Bulky without being corpulent, sunburnt, blue-eyed, with the look of a weary traveller, Mallory was an Englishman in the middle years of life and was, tonight, alone." Or this, from "Old Flame": "Zoë, now seventy-four, is a small, slender woman, only a little bent. Her straight hair once jet-black, is almost white. What she herself thinks of as a letterbox mouth caused her, earlier in life, to be designated attractive rather than beautiful. 'Wild' she was called as a girl, and 'unpredictable,' both terms relating to her temperament. No one has ever called her pretty, and no one would call her wild or unpredictable now." Here's Wilby from "Folie à Deux": "He is a spare, sharp-faced man in his forties, clean-shaven, in a grey suit, with a striped blue-and-red tie almost but not quite striking a stylish note." And, finally, Cahal from "The Dressmaker's Child": "He was a lean, almost scrawny youth, dark-haired, his long face usually unsmiling. His garage overalls, over a yellow T-shirt, were oil-stained, gone pale where their green dye had been washed out of them. He was nineteen years old."