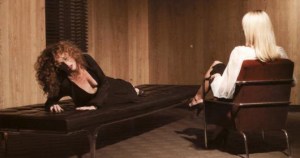 Are you totally hot and jobless? Don't fret—just call André Balazs! The hip hotelier's chain of Standard sleeperies employs some super sexy staffers. And they want the world to know.
Well, at least they want The Daily Transom—and whoever else received a copy of the 2008 Standard calendar Balazs Properties sent us today—to know.
Twelve comely hotel workers were snapped for the desktop, prop-up diary, which is apparently meant to herald New York's forthcoming Standard. Sure, we may have to wait a while for our own branch (it's currently being erected over the High Line on the West Side), but there are three other Standards—Miami, Downtown L.A. and Hollywood—already in full-swing. Combined, they harbor plenty of sexy peons who can carry the weight of an entire month by themselves. To boot, each featured Standard employee within that hotness subset has an astrological sign corresponding to their month. Impressive!
Viennese photographer Jork Weismann shot the employees in a kitschy mock-up of a shrink's office. The picture shown above, for example, features March's Shannon Spillett (Pisces)—something of a redheaded femme fatale who heads up the sales team at the Standard's Miami Beach outpost. Ms. Spillett's blurb suggestively reads, "This former art dealer has a mind for business and a body for something else entirely."
Our hands-down favorite, though, is August's Lily Cuzor (Taurus)—a blonde cocktail waitress at the Standard, Downtown L.A. Pictured cross-legged in knee-high athletic socks and a tiny athletic outfit, Ms. Cuzor has a lot on her mind. Reads her blurb, "After the late night shenanigans, she needs to lock into lotus pose and remember to breathe."