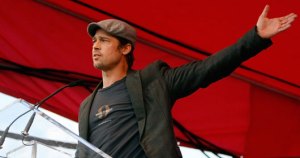 On Tuesday, Nov. 13, Bill Pitt, father of Brad, arrived at the sporting-goods store Exercise & Rehab Equipment, in Springfield, Mo. Grandpa Pitt, who lives in the area and has become something of a local celebrity, asked the clerk if the owner was available, reported a source who was also present.
"Mr. Pitt was looking at a treadmill with a price tag of almost $3,000," recalled the spy, who also happened to be in the market for such a contraption. The store owner described the features of the machine and said it was a top-of-the-line model, adding that he'd sell it to Mr. Pitt at cost of $1,500.
Mr. Pitt looked around the store, apparently chewing over the offer of a 50 percent discount. He gestured to another treadmill with a price tag of $1,200 and said, "I like that price better," the source recalled. Some discussion ensued—a friendly enough conversation, but Mr. Pitt was driving hard for the bargain, the source said. Eventually, the owner caved, settling for $1,200.
The eavesdropper couldn't believe what he was hearing. "Does Mr. Pitt even need to worry about $300?" he griped.
After Mr. Pitt left, the source asked whether he could get a similar bargain. "I was dealing with the clerk, who said, 'No,'" he said. "I didn't want to be annoying and ask for the owner, so I left. … It's funny how when you have the money, you can get a better deal on something. But if you're a normal middle-class guy like me, you have to pay full price." Hey, the squeaky wheel gets the grease, bub!
"I don't comment on purchases of my clients," said the owner, Cliff Hancock. "But his dad is a friend of mine, and I can tell you that no one else other than my staff would have been in the store if I made a sale to him." Brad Pitt's rep had no comment.