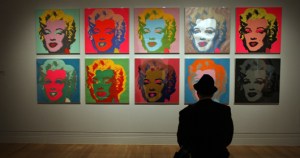 The Andy Warhol Foundation for the Visual Arts has built a $240 million endowment, with its net gain from sales at $16.25 million last year, according to its 20th anniversary report on its finances and philanthropy. Mr. Warhol, who died at 58 in 1987, left all his possessions to the New York-based foundation "for the advancement of the visual arts." President Joel Wachs declined to disclose the number of paintings, sculptures, prints and drawings that remain with the foundation to The Art Newspaper, stating that the holdings are "proprietary information because we are in the business of selling them."
According to the foundation's financial statement, net gain on sale of works of art for the year ended 30 April 2006 was $16.25m, with commissions on sales totalling $1.66m; the preceding year net sales were $12.6m with $1.39m in commissions.
"Our goal is to continue to sell to build the endowment to continue to give grants," says Mr Wachs.
Since 1987 the foundation—which by law must give away 5% of its assets annually—has disbursed more than $200m in cash grants and art donations. This year grants will total more than $11m for exhibitions, artist residencies, publications, public programming and (through the New York-based non-profit Creative Capital) individual artists and writers.