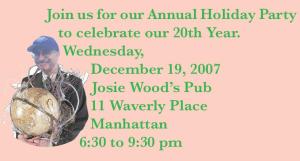 Here's the invitation to the holiday party hosted by Jerry Skurnik and Stuart Osnow of Prime New York, the warehouse for lots and lots of voter information in New York.
As always, the invitation was accompanied by some political poetry:
2007 was a very slow year
We waited for 2008 to appear
So the time to discuss what will likely occur
As New York sends out candidates, mayors and a her
The country is watching to see what we do
As a matter of course, we're all watching too.
Whomever we find in the White House is fine
We'd rather just wait for two thousand and nine
Cause the fun in the City will be about that
The Council, Comptroller, the Cat in the Hat
The Speaker, the BP's, and the Mayor and the twists
On the e-mail blasts, oh the calling for lists
Join us friends for a wink and a beer
Good food and drink, as always, is there
Join the discussions of political chat,
Our Holiday Party is where it's at.