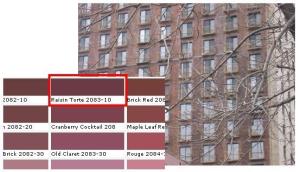 In July of 2006, The Transom featured the story of a battle being waged in the halls of a luxurious Williamsburg condominium. Residing in the former Esquire Shoe Polish Factory, the building's residents, most of whom occupy pricey large lofts and sprawling duplexes, were fighting over paint colors—the paint color to be applied on each apartment's door and frame, to be exact. "I don't like these New York stories," resident Monroe Denton told The Transom at the time. "But they're very New York."
On one side of the color divide were proponents of painting the entrances dark charcoal. And on the other: something more colorful, a bit cheerier. "It's like the Bloods and the Crips—except it's the Teals and the Dark Charcoals," resident Nancy Rielle is quoted as saying at the time.
Ms. Rielle, a member of the building's Teal gang, e-mailed us today to herald a bit of good news. Last week, just shy of the dispute's third anniversary, the building's residents finally came to a chromatic consensus—and it's called "Raisin Torte." At least that's what it's called on Ms. Rielle's floor, the Esquire's third.
"We tried some other earth tones, because that seemed to be the compromise—that the Dark Charcoal people were opposed to color period. And the color people wanted color," she told The Daily Transom today. "We tried some russet colors, but they were too orange; that was the feedback from the Dark Charcoal people." So Ms. Rielle and her neighbor continued to visit the paint store, using their own doorframes as color labs. She went on, "Our friend Brian, down the hall, who was really a Dark Charcoal, would come over and look at the new colors and say, 'nah.'"
So Raisin Torte was the consensus. And it left everyone feeling fairly content, Ms. Rielle said—if a bit silly, too. After all, Raisin Torte was the color of the doors and frames when the battle began almost three years ago.