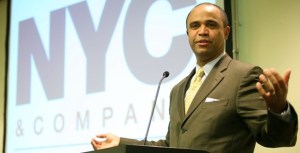 Some reactions from the 2009 circuit to Adolfo Carrion's entry into the comptroller's race:
Fernando Ferrer, the most recent Hispanic candidate to run for mayor, told me via cell phone, "Well look, I think that he's staked out for himself a race where he's going to be a dominant figure."
Asked if he was disappointed that Carrion would not be seeking the mayor's office, Ferrer replied, "I've just given you my comments."
Bill Thompson, whose (still unofficial) mayoral bid got the biggest boost from Carrion's decision, said in a public statement, "Adolfo Carrion has distinguished himself as a leader and an accomplished public servant. He would be a formidable candidate for any citywide position that he seeks."
Fellow comptroller candidate Melinda Katz welcomed Carrion to the race, and pointedly noted in a public statement, "This is a job I've been training for 20 years–from my time as a mergers & acquisitions lawyer, to my work on the state budget in the Assembly, to expanding economic development for the entire city during my tenure as Chair of the Land Use Committee."
More than once after Carrion's speech Bronx Democratic County Leader Jose Rivera told reporters, "I believe Adolfo can be mayor in eight years."
Roberto Ramirez, who attended the breakfast where Carrion announced, told me, "I'm just a student of politics. You should ask him," and pointed at the candidate.
A spokesman for David Yassky's comptroller campaign declined to comment.