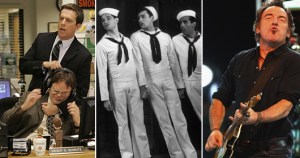 The funniest TV lines of 2007. "Five of us transferred from Stamford. There's two of us left—me and Karen. It's like we're touring Willy Wonka's chocolate factory and dropping off one by one. Well, guess what? I'm not falling in a chocolate river." – Andy (Ed Helms), on The Office
Looking at Lord & Taylor now that it has been landmarked. "Samuel Lord and George Washington Taylor opened their dry-goods store on Catherine Street, on the Lower East Side, in 1826. We don't often hear the term "dry goods" these days. It refers to fabrics, or cloth goods of any kind. Dry-goods stores sold bolts of fabric to retail customers who then made their own clothes or curtains."
"Michael Kidd, the award-winning choreographer of exuberant dance numbers for Broadway shows like Finian's Rainbow and Guys and Dolls and Hollywood musicals including The Band Wagon and Seven Brides for Seven Brothers, died on Sunday at his home in Los Angeles."
"In the past few years, the protest song has been on something of a comeback tour. Old schoolers (Springsteen, John Fogerty), alt-rock veterans (Pearl Jam, Green Day, Beastie Boys, Flaming Lips) and relative newcomers (Bright Eyes, the Roots) have become furious enough at what's happening in the US and abroad to write protest songs. But unless you're a music geek or a web troller, chances are you've never heard—or heard of—most of them."
How badly do we need celebrity architects? "[U]ntil we have an understanding of the nature of the architectural celebrity culture, we cannot know if we should shrug or mourn."