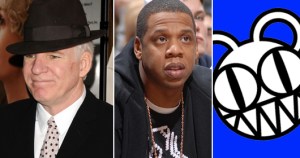 American Prospect asks name-y experts about the most overrated and underrated cultural events of the year. Historian Antony Beevor: "Overrated: I was deeply disappointed by the film Atonement. Perhaps my expectations had been too high, having greatly admired the novel. The film certainly opened well, but the vastly expensive Dunkirk sequences—a massive self-indulgence on the part of the director—wrecked what might otherwise have been a great success."
Jay-Z steps down as president of Def Jam Recordings. "Jay-Z's exit from the executive role comes after Universal, a division of Vivendi, declined to renew the contract under more lucrative terms he sought, according to people briefed on the talks, who requested anonymity because the negotiations were confidential. Under the deal that is expiring, Universal was to pay Jay-Z in the range of $10 million over the course of the contract, if he hit certain financial targets."
The play is the comeback kid of the year, according to The New York Times' Ben Brantley.
CBS will telecast the Kennedy Honors two-hour special beginning at 9 p.m. tonight. This year's recipients included stage and screen star, comedian and playwright Steve Martin; pianist Leon Fleisher; singer Diana Ross (Tony winner for An Evening with Diana Ross); film director Martin Scorsese; and songwriter Brian Wilson.
Radiohead will broadcast some new songs and "other bits" on New Years Eve on their site, radiohead.tv.
High School Musical makers are creating a new musical for MTV called The American Mall, set to debut this summer. "Bulgarian-born actress Nina Dobrev and Rob Mayes lead the ensemble cast of the musical, a romantic comedy-drama set at a mall. It centers on high school graduate Ally (Dobrev), a singer/songwriter battling to save her mother's music store and to keep the boy she loves, Joey (Mayes), a musically gifted young janitor who fronts a garage band."