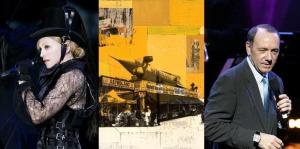 "Since the late 1970s, when Richard Prince became known as a pioneer of appropriation art — photographing other photographs, usually from magazine ads, then enlarging and exhibiting them in galleries — the question has always hovered just outside the frames: What do the photographers who took the original pictures think of these pictures of their pictures, apotheosized into art but without their names anywhere in sight?"
Oh, yum! Madonna has named her final Warner Bros. studio album Licorice! It's set for release in late April.
Kevin Spacey will sub in as host of next week's Nobel Prize concert after Tommy Lee Jones spaced out for "undisclosed personal reasons." Al Gore must be peeved.
Hunky Nip/Tuck and Smallville star John Schneider will take on the Billy Flynn role in Broadway's Chicago starting Jan. 14.
Check out a slideshow of Sunset Part artist Robert Mars' homage to the dilapidated Coney Island that will soon be replaced by Jetsonsville. "Growing up as a kid I would go to Coney Island," he told Brooklyn Based, "and this summer I must have ridden my bike there three times a week. I started to realize how special it was to me. Then there was all this talk of making it into condos, so I started to document it. I feel like it's a part of America that's dying…but I can preserve it in my own way."