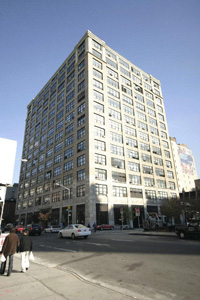 The fashion pros at Liz Claiborne are considering a move to Hudson Square, an act that would give a bit of a chic infusion to the hot spot for media and communications firms.
Developer Burton Resnick, fresh off signing a 127,000-square-foot lease for the headquarters of public relations firm Daniel J. Edelman at his 250 Hudson Street, told The Observer he was in talks with Liz Claiborne to take around 125,000 square feet of office space in the same building.
The recent Edelman deal took up the top floors of the building, but Mr. Resnick, the chairman of Jack Resnick & Sons, said there is space enough to fit Claiborne's offices as well. "I could still fit Liz Claiborne in—we're talking to them now," Mr. Resnick said. Claiborne's current headquarters are at 1441 Broadway.
The company is undergoing a restructuring, consolidating its holdings to focus specifically more on a few brands.
"We have these large blocks of space that come off lease in five years and we've begun the normal process to understand the marketplace," said Jane Randel, a spokeswoman for Liz Claiborne.
Should the Resnicks land the designer, it would speak to the powerful, if unexpected, appeal of Hudson Square, which just a few years ago sported some of the highest office vacancy rates in Manhattan. But the big blocks of space available there at $40 to $50 or so a square foot annually act as a shiny lure in the days of $100-a-foot midtown rents. In the past two years, Viacom, New York magazine, WNYC, The New York Review of Books and others have moved or agreed to move to Hudson Square.
The Resnicks have owned 250 Hudson Street for decades, and have only recently begun transforming it into an office building from its use for the printing trades, an industry once prominent in the area. The ad firm Lowe & Partners Worldwide is expected to move into 250 Hudson this summer; Edelman is slated to arrive in 2009.
Mary Ann Tighe, Todd Lippman, Ken Meyerson and Fred Fackelmayer of CB Richard Ellis represented Edelman on its lease, which was first reported in Real Estate Weekly, while Resnick had in-house representation from Dennis Brady and Jonathan Dean.