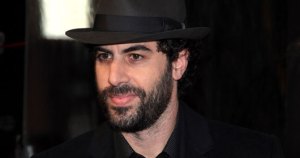 Sacha Baron Cohen told the Daily Telegraph that he is retiring two of the characters that made him famous. He told the UK newspaper that it was much easier to do interviews and act in movies as Borat and Ali G, but it was time to let go and move on to more challenging roles.
Sara Vilkomerson wrote in 2006:
"The character of Borat—a second-stringer to Ali G, Mr. Baron Cohen's ethnically confused, suburban hip-hop character—is a weirdly likable one. It's hard for even the people he sends up to resist his wide-eyed astonishment, his ebullient happiness and the flash of his uncomprehending smile. Borat is joyfully anti-Semitic, misogynistic, homophobic and racist—and brings out those same traits in many of his unwitting interview subjects, a fact that lends his comic bits a distinct edge of queasy darkness."
Mr. Baron Cohen told the Daily Telegraph:
"When I was being Ali G and Borat I was in character sometimes 14 hours a day and I came to love them, so admitting I am never going to play them again is quite a sad thing," he said. "It is like saying goodbye to a loved one. It is hard, and the problem with success, although it's fantastic, is that every new person who sees the Borat movie is one less person I 'get' with Borat again, so it's a kind of self-defeating form, really.
"It's upsetting, but the success has been great and better than anything I could have dreamed of."