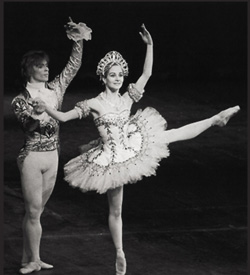 Count your blessings, all ye New Yorkers who every Christmas can rejoice in George Balanchine's masterpiece The Nutcracker. Never have I appreciated it more than in Paris this year, when the Opéra Ballet gave us Rudolf Nureyev's 1985 version. (For unfathomable reasons, it's seen frequently in Paris and for years it held the stage in London as well.)
Not even Nureyev's greatest admirers acclaim him as a great choreographer. He could stage an effective spectacle, he could discover and promote talented dancers, he could inspire a company and he could—and relentlessly did—find occasions in ballet after ballet to create male solos, however inappropriate, for Guess Who to inhabit. What he could not do was choreograph.
His Nutcracker is just one more proof of this crucial defect. There isn't a dance moment in it that's anything but fussy and empty. (And this to Tchaikovsky's sacred score!) It doesn't matter that he failed with Raymonda—everyone fails with Raymonda; and Don Quixote, that charming and decidedly un-sacred mishmash, provided him with a brilliant role and an opportunity for a big, splashy, charming production. Steps were more or less irrelevant.
We, of course, are used to a Nutcracker centered on children and the magic of Christmas. Nureyev made the leading roles for adults masquerading as children. The Clara I saw—Myriam Ould-Braham—is a Premier Danseur; likewise Emmanuel Thibault as the naughty Fritz. Jérémie Bélingard, an Etoile, doubles as Drosselmeyer and "Le Prince," and there's the point of the whole thing: inventing a dream-romance for the sake of establishing a central male role—yes, with solos.
There's no through-line to the story, although we do get a party scene (the grown-ups dance, not the children, and in the case of the grandparents, they dance far too long and far too cutely); a mouse scene, though with no heroics from Clara (and at one point one of the boy soldiers actually looks dead; and a divertissement, with many of the usual attractions. It's the best part of the ballet. (Not even Nureyev could spoil a "Danse Espagnole" or a "Danse Arabe.")
There's no resonance, no charm. Even the music has been capriciously shifted around. This is a Nutcracker for Nureyev fans, not Tchaikovsky lovers, although the orchestra was considerably more fluent and dancey than the company itself, which went through the motions with dignity—hardly the quality we look for in the ballet known in France as Casse-Noisette.
THINGS AT THE Opéra took an upturn with the revival of Pierre Lacotte's version of Paquita. Lacotte is the well-known piecer-together of important 19th-century ballets: We last encountered him in New York when the Bolshoi brought us his ghastly reconstruction of Petipa's once famous, now infamous Daughter of the Pharaoh.
Paquita has a patchy history, beginning in 1846, and a patchy plot. It's Spain under Napoleonic rule. A young Gypsy girl, Paquita herself, turns out not to be a Gypsy at all: She's an aristocrat who—surprise!—was abducted when an infant. (The great critic Gautier, reviewing the premiere, remarked, "You know how Gypsies are great kidnappers of children, particularly in the theater.") One passionate look between her and the handsome young officer Lucien d'Hervilly and the die is cast—to the fury of the Gypsy villain who hopes to make Paquita his own. There's a conspiracy to murder Lucien, but plucky Paquita saves the day, and later, at the d'Hervilly ball, she happens to notice the extraordinary resemblance between the portrait of Lucien's assassinated uncle that's hanging on a convenient wall and the portrait in the locket that she carries with her everywhere. It's true! She's Lucien's long-lost cousin, and soon-to-be bride.
Paquita was a hit, and soon afterward, Petipa staged it in Russia, adding some new passages to music he commissioned from Minkus to fill out the original score by a workmanlike composer named Edouard-Marie-Ernest Deldevez. The Petipa-Minkus additions—a first-act pas de trois, a mazurka and the grand pas de deux—are all we have left of the original production(s), and they're wonderful. The rest is up for grabs, and Lacotte has done a perfectly serviceable job of dishing up yards of classical pastiche, particularly in his bursts of dance for groups of 6, 8, 12 dancers. These energized generic passages give us a sense of what things must have been like on French and Russian stages back in the days when Gypsy abductions were commonplace.
Silly as it all sounds (and was), Paquita was held together by the committed orchestra and the ravishing costumes of Luisa Spinatelli, the real heroine of the evening. The dancers were led by a young Etoile, Dorothée Gilbert—lanky, angular and not very fetching. More fetching was the young Lucien, danced by Manuel Legris, an Etoile for more than 20 years now, who bears a slight resemblance to Charles Trenet. He twirls a pretty cape (pale blue), and he's always a star, but his dancing today is less exciting than it once was. As is Paquita itself. It's fun, though. Lacotte's additions, subtractions and inventions do no harm and keep things going, and when we arrive at what's left of Petipa, we're in classical ballet heaven.
THE REAL FASCINATION of the season was the annual demonstration of the Opéra's ballet school on the great stage of the Palais Garnier. This is not an actual performance, like those staged by the School of American Ballet every year (though the Opéra school does those, too) but a two-and-a-half-hour series of classroom exercises under the supervision of each group's teachers. I was struck less by the brilliance of the kids—although one or two are clearly marked for stardom—than by the high seriousness about their work manifested by both teachers and students, and by the tender regard and respect they clearly have for each other. (At the school itself, this respect is symbolized by the way the boys and girls have been trained to stop and bob or curtsey whenever they pass an adult; in Paris, the good manners that classical ballet demands are instilled young.)
"Souplesse! Légèreté!" the teachers call out, and you can see the students striving for—and achieving—the extra suppleness and lightness expected of them. Given this superb pedagogy, the essential mystery of the Ballet de l'Opéra grows even more mysterious: Why do so many of these excellently trained young dancers end up so inexpressive once they become company members? Why aren't they helped to understand that execution should be the beginning, not the end, of a dancer's art?