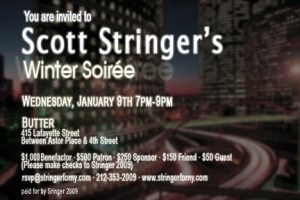 Manhattan Borough President Scott Stringer, whose 2009 intentions are still not clear, is having a fund-raiser at the chic Lafayette Street restaurant Butter on January 9, according to an invitation a reader sent me.
Tickets range from $50 to $1,000, but the invitation says "Members of political clubs and students can purchase tickets at the reduced price of $45."
Speculation as to which office he'll seek can be made here for free.
Members of the host committee include: Jennifer Cunningham, an influential advocate for 1199; Patrick Gaspard, another prominent labor leader; Risa Heller and Ryan Toohey, both consultants at Global Strategies; Allen Roskoff, an outspoken gay rights activist; Maura Moynihan, daughter of the late Senator; and Brice Peyre, an aide to Congresswoman Carolyn Maloney.