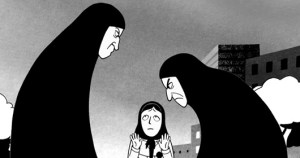 PERSEPOLIS
Running time 95 minutes
Directed by Vincent Paronnaud
Written by Marjane Satrapi
Starring Chiara Mastroianni, Catherine Deneuve
Marjane Satrapi and Vincent Paronnaud's Persepolis is based on the graphic novels by Ms. Satrapi (Persepolis: The Story of a Childhood and Persepolis 2: The Story of a Return). The film and the novels derive their title from the name of the Persian capital founded in the sixth century B.C. by Darius I, later destroyed by Alexander the Great. It serves as a reminder for Ms. Satrapi and especially us in the West that her birthplace is an old and grand civilization, besieged by waves of invaders but carrying on through the millennia, that is much deeper and more complex than the current view of Iran as a monoculture of fundamentalism, fanatacism and terrorism.
Ms. Satrapi explains what she considers a widespread misconception of Iran: "I believe that an entire nation should not be judged by the wrongdoing of a few extremists. I also don't want those Iranians who lost their lives in prisons defending freedom, who died in the war against Iraq, who suffered under various repressive regimes, or who were forced to leave their families, and flee their homeland, to be forgotten."
Ms. Satrapi has fled Iran, not once, but twice—first to Vienna, where a failed love affair with a cheating partner completely demoralized her and filled her with self-loathing to the point that she could not function in any coherent way. After waiting months to get a visa back home to Tehran and her supportive family, particularly her womanly wise grandmother, she found her country still in the grip of a repressive Islamic Revolution, demanding veils and burqas for women.
After a time, she applied for another visa, this time for Paris, where she has worked and prospered ever since, together with her friend and co-director of Persepolis, fellow comic artist Vincent Paronnaud, with whom she has shared a Paris design studio, occasionally drawing with him and working separately but by his side.
It's hard for me to describe in words the film's strange mix of anime and animation blended in with the editing liberties of live-action cinematography, particularly that of F.W. Murnau and the German Expressionists, as well as that of the post-neorealist Italian comedies, which her mother loved.
According to Ms. Satrapi, the animation style "could be defined as 'stylized realism,' because we wanted the drawing to be completely lifelike, not like a cartoon. Therefore, unlike a cartoon, we didn't have that much of a margin in terms of facial expression and movement."
Ms. Satrapi does not hesitate to ridicule the pomposities of the Islamic Revolution, particularly as these are grotesquely misapplied to urbanized Iranian females like herself. But she does not sentimentalize the pre-Islamic regime of the Shah, a creature in her mind of British and American imperialism, fueled by their respective oil companies.
The French influences on Persepolis are embellished by the contributions of French art director Marc Jousset, and the voices of Chiara Mastroianni in the lead role of Marjane as a teenager and adult; Catherine Deneuve as Marjane's mother, Tadji; and Danielle Darrieux as Marjane's grandmother. What makes the casting even more en famille is that Ms. Mastroianni is the daughter of Ms. Deneuve and Marcello Mastroianni, and Ms. Darrieux has played Ms. Deneuve's mother in some recent French films.
The end result is by turns whimsical, satirical and poignant to the point of heartbreak as it follows the shifting fortunes of a Tehran family with a feisty daughter who has chosen to bring their story to the world's screens at a time of global crisis for us and the people of Tehran. I'm glad I saw it, and I think you will be, too.