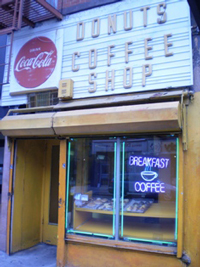 The donut case was already empty. The last stacks of coffee cups were dwindling. A bouquet of roses from appreciative patrons adorned the intimate 12-seat counter.
Nostaglic customers snapped photos over breakfast as business winded down on Wednesday morning at doomed Donuts Coffee Shop on Fifth Avenue in Park Slope—pperhaps the last place you'll find a 90-cent cup o' joe in the gentrified nabe.
The longstanding Greek diner closes Friday as its tiny retail space gets swallowed up by the expanding Associated supermarket next door, which is also taking over an adjacent restaurant space.
"I've been coming here for 45 years," said crusty regular Nancy, dressed in sweats, sneakers, and a Mets cap twisted sideways. "I'm here every day. Sometimes two, three times a day."
Where will Nancy go now for her morning (and afternoon) coffee?
Over on Fourth Avenue, she said, at The New College restaurant, which serves the same brand of java, albeit at a higher price.
"I stick with the Greeks," she said.