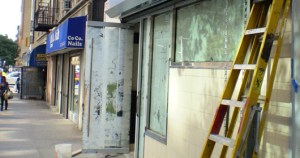 A ceremonial salami-cutting is scheduled for Monday morning, when the hallowed Second Avenue Deli reopens in Murray Hill.
A spokesperson for the Lebewohl family said Tuesday that the grand-opening festivities will commence at 11 a.m. at the new deli, located at 162 East 33rd Street near Third Avenue.
She added that the ceremonial meat would be "nickel shtikle."
Further details on the long-awaited opening:
New York City (December 11, 2007) – One of New York City's beloved institutions, the 2nd Avenue Deli, opens December 17 at 162 East 33rd Street between Third and Lexington Avenues. The deli's opening will be celebrated with a ceremonial salami cutting of "nickel shtikel" links on Monday, December 17, 2007 at 11 a.m..
Second-generation restaurateur Jeremy Lebewohl, nephew of 2nd Avenue Deli founder Abe Lebewohl, who will operate the restaurant, made the announcement. An East Village landmark, the 2nd Avenue Deli occupied the corner of East 10th Street and Second Avenue for 51 years before closing in January 2006.
"My brother and I grew up in the 2nd Avenue Deli, so it was more than just a family business," says Jeremy Lebewohl. Jeremy and his brother, Joshua, are partners in this new venture. "We are excited to continue in the family tradition of providing great kosher food in an exciting, friendly atmosphere," Jeremy added.
According to Jeremy Lebewohl, the 2nd Avenue Deli will comprise 2,368 square feet of space with approximately 60 seats and a small bar. It will offer an expanded takeout and catering menu. Hours of operation will be 24 hours, seven days a week.
"I'm delighted my sons will carry on the Lebewohl tradition, and I know Abe would be thrilled," says Jack Lebewohl, who ran the restaurant after the death of his brother Abe, and will serve as an advisor. Jack collaborated with Abe's daughter Sharon Lebewohl and food writer Rena Bulkin on the The Second Avenue Deli Cookbook: Recipes and Memories from Abe Lebewohl's Legendary Kitchen, which will be sold in the restaurant's gift shop. "Restaurants are hard work, so while I'm sleeping late, it will be nice to know that Jeremy is keeping busy!"
Born in Kulykiv, Ukraine in 1931, Abe Lebewohl immigrated to America with his family in 1950. He first worked as a dishwasher and later counterman in Coney Island. In 1954, Abe with two co-workers, who he eventually bought out, purchased a 12-seat coffee shop on 10th Street and Second Avenue and turned the space into a deli. Abe gradually expanded the deli into a 130-seat restaurant, which became famous for such delicacies as matzo ball soup, kugel, huge corned beef and pastrami sandwiches, and, arguably, the world's best chopped liver.
Regular customers included Joe DiMaggio, Muhammad Ali, Paul Reiser, Sarah Jessica Parker, Jerry Seinfeld, Fyvush Finkel, Bette Midler, Goldie Hawn, Danny Glover, and cast members of The Sopranos.
Known as "The Mayor of Second Avenue," Abe Lebewohl was beloved for his generosity, providing free food to the homeless, striking workers, and for neighborhood events. As a tribute to the Yiddish Theaters that once peppered the neighborhood, he created The Yiddish Theater Walk of Fame on the sidewalk in front of the restaurant's entrance. He was fatally shot on March 4, 1996 while depositing the restaurant's daily receipts at a local bank. More than 1500 mourners attended his funeral, and the triangle in front of St. Mark's Church was renamed Abe Lebewohl Park.